You should minor in professional sales if:
You enjoy meeting new people and getting to know them and their interests.
You are interested in strategizing the perfect way to solve problems and communicate solutions.
You come up with out-of-the-box ideas as part of your decision-making process.
Selling is an integral part of marketing. A professional sales minor will teach you the sales strategies and techniques you need to succeed. Get hands-on experience from sales presentations in class and on-the-job training with an internship.
Other Professional Sales Programs at UL Lafayette
Professional Sales at UL Lafayette
What's Professional Sales Like?
Lab work

Research

Internships

Presentations

Writing

Group work and collaboration
Top 1%
We are among the top 1% of business schools worldwide accredited in both business and accounting by AACSB.
Professional Sales Program Features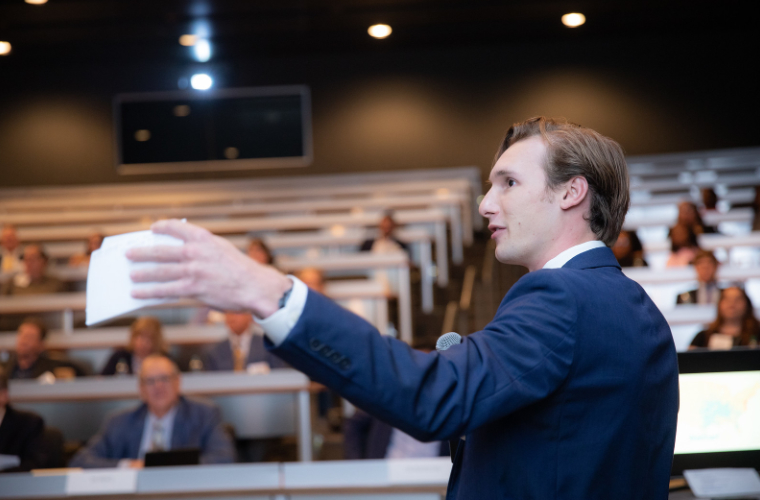 Practice Your Pitch
Work on your sales and marketing techniques with professors and professionals in our Northwestern Mutual Sales and Research Lab. Our student sales team is among the nation's best, finishing in top spots at regional and national competitions.
Business Secrets LLC
The Business Secrets Living-Learning Community (LLC) connects you with other first-year students who share your interest in business. LLC members live in the same residence hall on campus, take classes together, and participate in events and programs focused on starting and managing a business.
More about LLCs
Study Abroad
Earn credit toward your degree while studying in another country. Study abroad with our programs in Costa Rica, England, France, Italy, and Morocco.
More about Study Abroad
Student Organizations
Join the UL Lafayette Gamma Chi chapter of Pi Sigma Epsilon, the only national co-ed professional fraternity for sales, marketing, and management. Get valuable networking experience, hands-on learning opportunities, and attend regional and national conferences.
Join Pi Sigma Epsilon