You should minor in food service management if:
You love food and creating dining experiences for your friends and family.
You dream of running your own restaurant or planning special events.
You want to learn the principles of nutrition, food safety, and managing a successful business in the restaurant industry.
Food is an important part of Louisiana culture and a great way to connect with friends and family. With a food service management minor, you'll learn how to safely handle food and manage a commercial food service facility.
Customize your minor with classes on event planning or beverage management.
Other Food Service Management Programs at UL Lafayette
Food Service Management at UL Lafayette
What's Food Service Management Like?
Lab work

Research

Internship

Presentations

Writing

Group work & collaboration
Top 1%
We are among the top 1% of business schools worldwide accredited in both business and accounting by AACSB.
Life in the Food Service Management Minor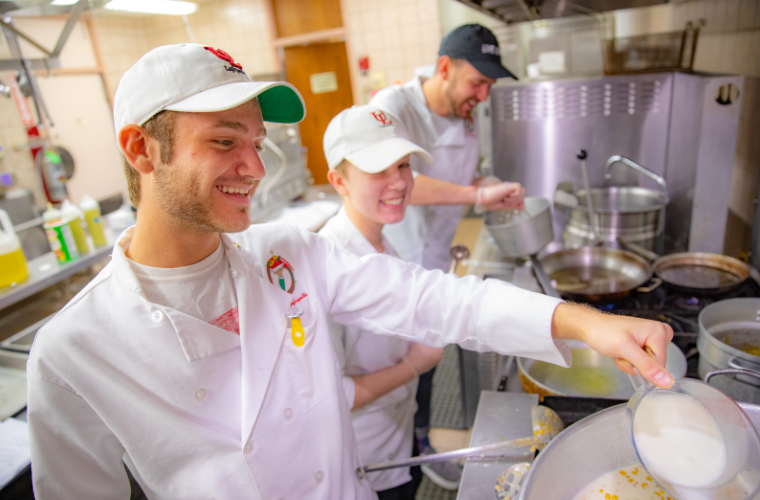 Tourism in Lafayette
Lafayette's location in the heart of Cajun Country attracts thousands of visitors who spend hundreds of millions of dollars every year. Our culture is known for its delicious food, unique landscapes, and welcoming people. You'll learn how to share that culture with people who are just visiting or who call Lafayette home.
Certifications
Through our hospitality management classes, you can earn national certifications, including ServSafe Food Safety and ServSafe Alcohol. Our students have a 95% pass rate on the Hotel Industry Analytics Certification, which measures professionals' ability to analyze hotel industry data and use it to make business decisions.
Travel & Organizations
Travel around Lafayette, New Orleans, and the state to learn about managing venues, restaurants, and hotels. Through the Ragin' Hospitality Association student organization, you can attend national and state conventions to network and get involved in the hospitality management industry.
Join the Ragin' Hospitality Association
Internships
Business majors earn credits toward their degree through the Moody College of Business Administration Internship Program. Connect with companies and firms to get on-the-job experience in your field before you graduate.
More about Internships