Sharing
Leading
Ragin'
The University's bike share program provides a convenient way to scoot across campus or around town.
Rent a bicycle from several spots on campus and pedal to class, a store, a friend's house — or anywhere else the road takes you.
Sharing
Leading
Ragin'
A campuswide commitment to sustainability has earned national kudos. The U.S. Department of Education gave the University a pat on the back for a range of initiatives and programs, from green building to recycling to tree preservation.
Sharing
Leading
Ragin'
The rain garden between Burke-Hawthorne and Wharton halls features attractive — and functional — landscaping. Vegetation planted in a shallow trough also provides a filter for silt and contaminants in rainwater.
Otherwise, pollutants carried by runoff stream into drainage systems and end up in the Vermilion River.
September 19th, 2019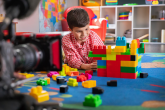 Louisiana Ragin' Cajuns fans, be on the lookout. The University of Louisiana at Lafayette's new national commercial...
Read More ➝
September 18th, 2019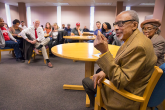 For the second year in a row, UL Lafayette has earned the Higher Education Excellence in Diversity Award. The...
Read More ➝
September 18th, 2019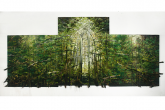 The Paul and Lulu Hilliard University Art Museum's fall season is in full swing with five exhibits. "Paths and...
Read More ➝