Insurance & Risk Management
You should major in insurance and risk management if:
You're interested in using an analytical approach to help people and businesses protect what's important to them.  
You like working with numbers and you pay close attention to details. 
You want a career advising businesses on how to protect themselves, their employees, and their customers.
Risk management and insurance play a role in every aspect of business operations. You'll learn how to help individuals, businesses, non-profit organizations, and government agencies with overall risk management, financial planning, property and casualty insurance, employee benefits, and life and health insurance.
In our insurance and risk management program, you'll take a core of general business courses along with advanced courses in finance and insurance and risk management. Customize your degree and explore your personal interests with one of our minors or concentrations and a range of business electives.
Other Insurance & Risk Management Programs at UL Lafayette
Insurance & Risk Management at UL Lafayette
What's Insurance & Risk Management Like?
Research

Internships

Presentations

Writing

Math

Group work & collaboration
Top 1%
We are among the top 1% of business schools worldwide accredited in both business and accounting by AACSB.
Life as an Insurance & Risk Management Major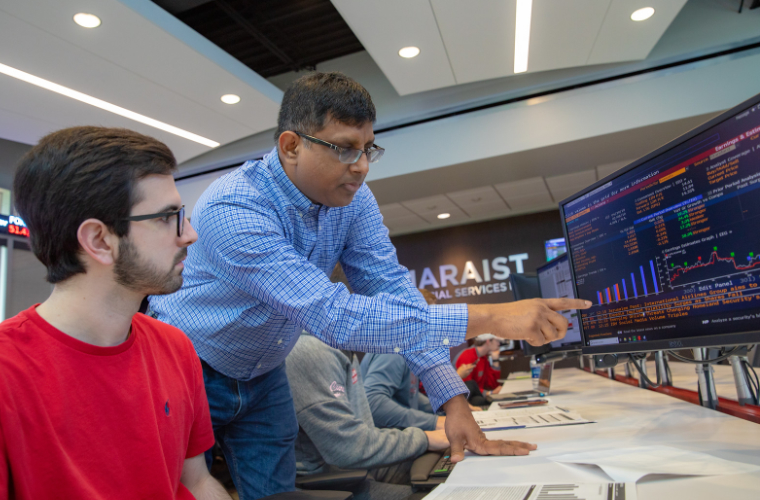 State-of-the-Art Financial Lab
Get hands-on experience managing investment portfolios in the Maraist Financial Services Lab. We have the same technology as the world's leading banks, corporations, and government agencies. You'll learn portfolio management, financial strategy and markets, trading, modeling, and business performance analysis — and make investment recommendations for a $100,000 portfolio for the UL Lafayette Foundation. 
 
Internships
Earn credits toward your insurance and risk management degree through the Moody College of Business Internship Program. Connect with companies and firms to get on-the-job experience in your field before you graduate.
More about internships
Partnerships with Professionals
We work closely with insurance and risk management experts across the region. Those connections with professionals directly influence what we teach in the classroom — plus it gives you access to mentors, internship opportunities, and well-paying jobs in the insurance and risk management industry.
Business Secrets LLC
The Business Secrets Living-Learning Community (LLC) connects you with other first-year students who share your interest in business. LLC members live in the same residence hall on campus, take classes together, and participate in events and programs focused on starting and managing a business.
More about LLCs