UL Lafayette · Ochsner Accelerated BSN Program
You should consider this program if:
You already hold a bachelor's degree with an overall GPA 3.0 and want to begin your nursing career. 
You're looking for an accelerated option.
You want to complete your BSN in 15 months.
You are ready for a career change into the fulfilling and financially rewarding profession of nursing. 
UL Lafayette has partnered with Ochsner Lafayette General to create an accelerated program for you to earn your Bachelor of Science in Nursing degree. In just 15 months, this intensive full-time program will prepare you to change your life and the lives of others. Students with a completed bachelor's degree in a non-nursing discipline will complete 70 hours of nursing course work and earn their BSN through a combination of teaching methodologies including didactic courses, clinical and lab experiences, and hybrid interactive learning courses. 
Starting in May 2024, you can begin your nursing courses for this program, but you can work on your prerequisites right now. 
More Nursing Programs at UL Lafayette
Bachelor of Science in Nursing RN to BSN Online
UL Lafayette · Ochsner Accelerated BSN Program
What's UL Lafayette · Ochsner Accelerated BSN Program Like?
Research

Presentations

Clinicals

Interpersonal communication

Writing

Group work & collaboration
Student tuition for nursing courses will be covered for participants who contractually commit to work for Ochsner Lafayette General after graduation.
Live in the UL Lafayette · Ochsner Accelerated BSN Program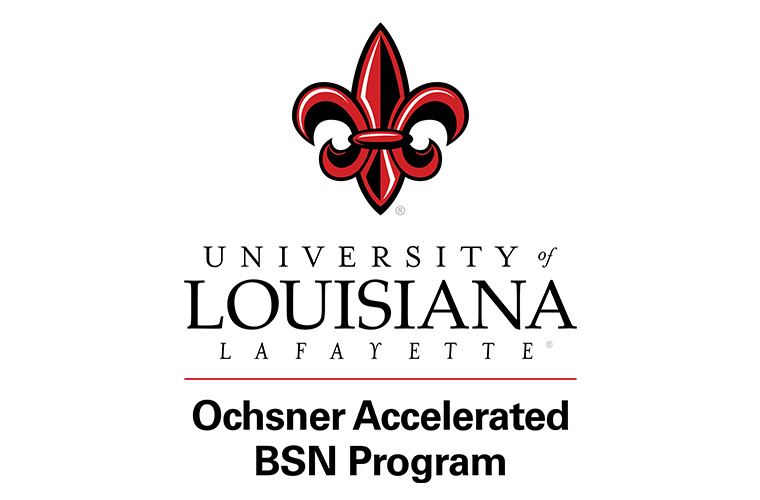 Ochsner Lafayette General Partnership
This partnership between the University of Louisiana at Lafayette and Ochsner Lafayette General provides special benefits for participating students. Depending on your previous degree, you could complete this accelerated program in as little as 15 months. Your clinical rotations will occur at Ochsner Lafayette General and you will have a contractually guaranteed job with Ochsner Lafayette General after you graduate. Ochsner Lafayette General is also investing $2.8 million into the program for support, operational expenses, and applicable student tuition for nursing courses.
Caring for the Community
Louisiana has a rapidly growing health care industry and we focus on improving care for patients, especially in areas where there are a shortage of health care professionals. Nursing majors log thousands of hours in health-related service hours each semester, implementing community-based initiatives to provide health services and education to people throughout Acadiana.
Simulations & Learning Labs
Practice providing the same care you'll provide as an RN in our eight state-of-the-art simulation and learning labs. You'll use the facilities and mannequins to insert IVs and catheters, give CPR and medications, and deliver babies. Learning in our labs puts you in an elite group — we are home to one of only 144 simulation programs worldwide accredited by the Society for Simulation in Health Care.
Clinicals & Wellness Wednesday
As a nursing major, you'll learn how to provide hands-on patient care during five semesters of clinical experiences in local hospitals, community settings, psychiatric and mental health settings, homeless shelters, and at health fairs. Interact directly with patients to conduct physical examinations and to plan, implement, and evaluate culturally competent nursing care under the supervision of our clinical faculty. On campus, we run the Wellness Wednesday clinic, where nursing majors provide health screenings to UL Lafayette students, faculty, and staff.