From UL Lafayette Biology Major to Ivy League Grad Student: April Pruitt's Story
"The supportive professors and the initiative to involve undergraduates in research are my favorite parts about the biology program. The entire department truly encourages and provides many opportunities for undergraduates to increase their repertoire of skills and critical thinking abilities by engaging in research."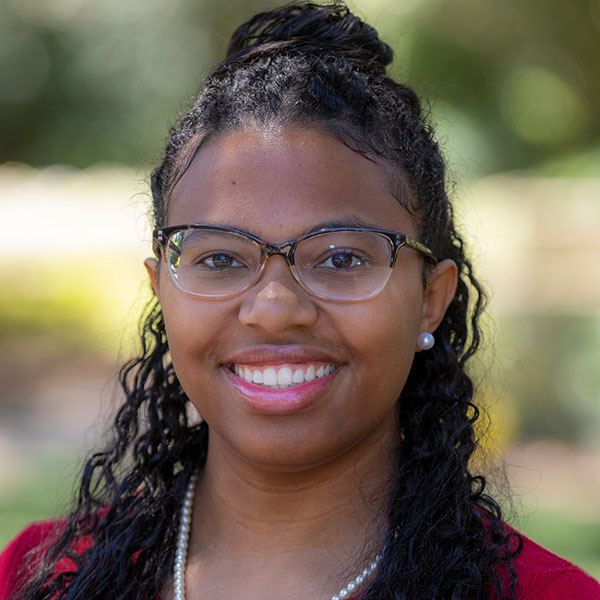 April Pruitt
Graduation Year

Class of 2020

Major

Biology

Hometown

Opelousas, La.
Where I Am
I am currently a graduate student studying for my Ph.D. in Interdisciplinary Neuroscience at Yale University in New Haven, CT.
Where I'm Going
After I receive my Ph.D., I will dedicate my time to researching Neuroscience nationally. 
Biology alum April Pruitt is earning her Ph.D. at Yale University, thanks to the range of research experiences she had as an undergraduate at UL Lafayette.
In the interdisciplinary neuroscience program at Yale, April is researching different risk genes for autism spectrum disorder under her co-advisors Dr. Kristen Brennand and Dr. Ellen Hoffman. In her work, she's exploring how neurons develop and how early exposure to estrogen hormones impact their development in different ways.
"Our brain is a very interesting organ, right? It controls who we are," April said. "I like neuro development because it starts, you know, at the point of conception. What really interested me the most was to really understand: What is the wiring of our brains that happens really, really early in our lives? How can we understand it better? How do dysfunctions in this early wiring lead to many different disorders that affect children?
"It's such a mystery — we know a lot of stuff about how our brain develops, but there's a lot that we still don't know."
A Path to Neuroscience Research
April always planned to major in biology with ambitions of becoming a doctor. She started on the pre-med track at UL Lafayette and started looking for opportunities to build her resume to improve her chances of getting into medical school — starting with research experience.
Her freshman year, she landed a work-study job in Dr. Beth Stauffer's lab in the Department of Biology, where she started working on estuary (brackish water) research and determining how single-celled dinoflagellates respond to different salt concentrations — an area unrelated to neurodevelopment, but the experience sparked April's interested in research.
"The supportive professors and the initiative to involve undergraduates in research are my favorite parts about the biology program," April said. "The entire department truly encourages and provides many opportunities for undergraduates to increase their repertoire of skills and critical thinking abilities by engaging in research."
After her freshman year, April spent her summer working at LSU's Health Sciences Center in Shreveport through the Louisiana Biomedical Research Network, a program that places undergraduates in summer research opportunities. In a lab under Dr. Edward Glasscock, April worked on research focused on finding a behavioral link between epilepsy and autism — her first introduction to neuroscience research.
"That experience really changed my interests. Maybe I would be interested in pursuing research as a career," she said. "And actually, in my work there, I was the first person to enter this new area of autism research."
Neuroscience Research at UL Lafayette
When April returned for her sophomore year, she began working in Dr. Karen Smith's lab studying neurological development and continued working there until graduation.
The research focused on how a particular growth factor impacts embryonic development.
"We were looking at how this absence of these growth factor receptors impacted movement and gait in these particular mice," April recalled. "So these mice were missing these growth factor receptors, and then we did balance beam tests, gait tests, and reflex tests.
"We found that when you remove this particular receptor, all of that gets messed up in their cellular organization and their cerebellum, which is the part of the brain that is very much responsible for coordination and movement," she continued. "So this particular receptor is really important for proper development of the cerebellum."
Summer Research Experiences
After her first summer doing research at LSU Health Sciences Center, April continued to use her time away from UL Lafayette to explore other research experiences, which she said were "really, really formative."
Her second summer, she worked in Dr. Nicole Purcell's lab at University of California – San Diego researching what happens to humans' hearts after heart attacks.
"I would work in the lab for four or five days a week, and then one day a week, I was shadowing a transplant cardiologist," April said. "So it was really, really fantastic to be able to interact with patients, as well as do heart research. I even went to a transplant board meeting. It was great. I got to see how decisions are made for heart transplants.
"It was an intense summer, but really, really great."
Her final summer, she traveled to Stanford to work in Dr. Sundari Chetty's lab on neurological development research with stem cells.
"I was working again with cells from patients with autism," April explained. "In that lab, I was looking at the speed that they're able to proliferate or make more copies of themselves, and trying to see at what stage — whether it's the stem cell stage, or the progenitor cell stage, which is just an intermediate stage between stem cell and neuron, — which stage are we seeing a rapid burst of proliferation?
"The stem cells were from patients that had macrocephaly, or enlarged brains. And so we were trying to understand, at what cell stage is this trigger that is inducing this rapid proliferation that will lead to an enlarged brain."
April's experience with this research confirmed her switch from the pre-med track to the research track.
"That program was, honestly the reason that I chose to go to graduate school, because it was a very intense summer that involved not only research, but we had workshops, and a lot of mentorship from current graduate students."
Bringing South Louisiana to Yale
Making the transition from UL Lafayette to Yale wasn't easy, but April's experiences at UL Lafayette prepared her for the change.
"Moving from Louisiana to Connecticut was a huge shock," April confessed. "Culturally, the food in Louisiana is obviously 1,000 times better, maybe even a million times better."
"But I think, you know, bringing my southern hospitality and southern values to the northeast has been very helpful," she added. "It's helped me to, you know, just meet people and find a good community, as well. Grad school's not for the faint of heart, but I would recommend it if anyone's interested."
Outside of her academic experiences, April's involvement in student organizations were instrumental in her grad school success. She was in the campus chapter of Habitat for Humanity, and held multiple leadership roles with University Program Council — experiences that "really helped to shape who I am as a person," she said.
With University Program Council, April organized multiple UL Lafayette traditions, including Homecoming and Lagniappe Day.
"I love UL Lafayette's traditions. They're really special. They're really unique," she said. "I have told countless stories of things that I think are pretty normal that we did at UL Lafayette but other people think they're super wild and really funny.
"So when you plan Lagniappe Day, you get to jump into the swamp. And I tell people this, and they're like, completely freaked out, because they're like, 'You jumped in an alligator swamp?'
"And I'm like, of course, I did. Why wouldn't I do that?"
---