James Fisher is using his psychology major and religious studies minor to go into pastoral psychology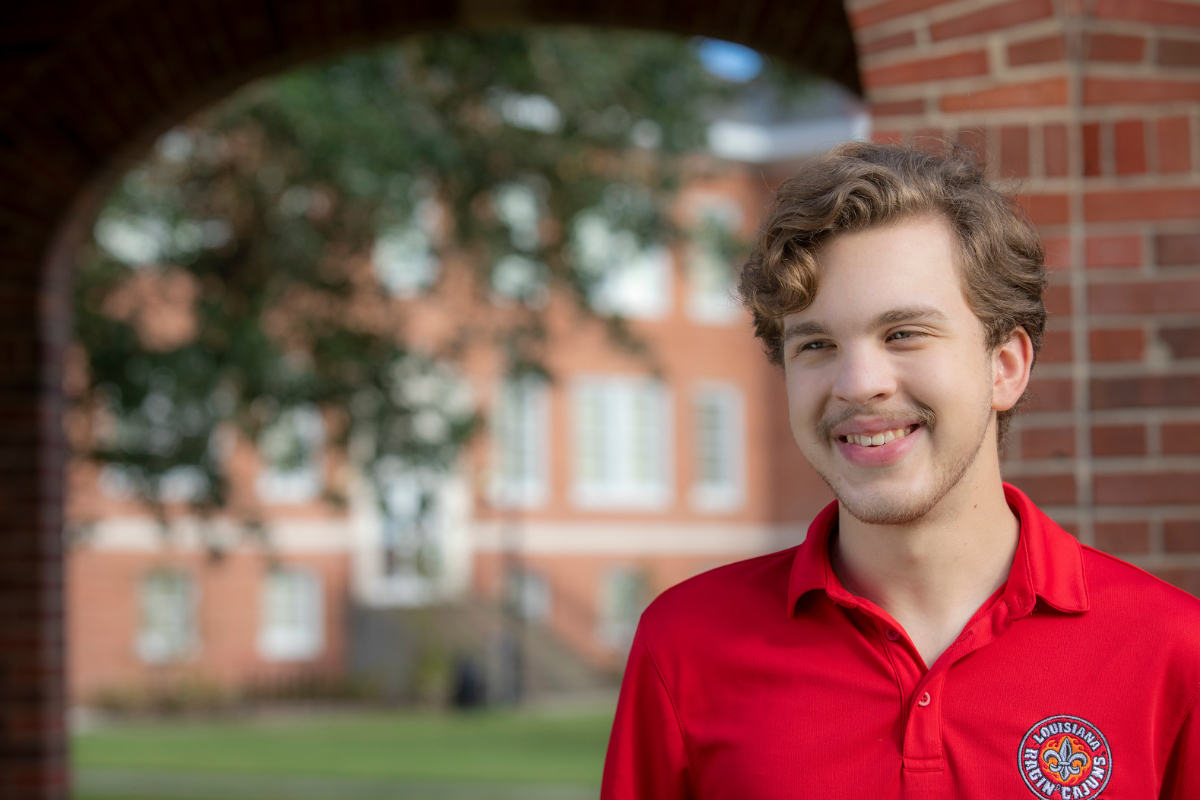 "My religious studies minor courses have shown me how to look at things in a different light and from a new perspective. It's a very beneficial thing to me, and I think to most people. I really enjoy being able to look at situations from other perspectives than my own."
James Fisher
Major

Psychology

Hometown

Tallulah, La.
Where I'm From
I'm from Tallulah, La., where I went to Episcopal summer camp my entire life.
Where I Am
I'm majoring in psychology and making the connection between psychology, sociology, and religion.
Where I'm Going
I am going to be a pastoral counselor and help people with spiritual and mental guidance.
James Fisher, a psychology major, has found his passion for psychology, sociology, and philosophy at UL Lafayette. With his minor, though, he also found his niche. 
"My religious studies minor courses have shown me how to look at things in a different light and from a new perspective," he said. "It's a very beneficial thing to me, and I think to most people. I really enjoy being able to look at situations from other perspectives than my own."
"Because of these courses, I try to look at things from multiple different perspectives and see if there is a right or wrong," he explained, "or if it's just an opinion-based matter. I think that's been very beneficial to me so far and I hope to keep expanding on that."
James credits his professors with helping him develop his attitude and understanding of the world. 
"I haven't had a bad professor yet," James said. "The course load might be a lot, but the professors have been doing an excellent job at reaching out to us and being there for when we need them. They're trying their hardest so we can be our brightest and I can really appreciate that.
"The open-mindedness and willingness to discuss things in class with the intention of gaining a new insight is one of the things I really enjoy about in my courses," he said.
James's plans for graduate school might not be fleshed out to the last detail, but he knows what direction he's heading. 
"I like the idea of pastoral psychology," he said. "It's like being a therapist but with more of a theological mind-set behind it. So, it's pointing you in the way of spiritual guidance as well as mental guidance."
His interests in religious studies started early in his life.
"I've been going to Episcopal summer camp my entire life," he said. "And I've been on the staff for it for the past two summers. Doing that, I get to spend a lot of time learning about the bible and learning about other people's perspective on the bible. But I hadn't learned too much about other religions."
James has been enjoying his classes and making connections between his psychology major and his religious studies minor.
"Learning the sociology of religion was really interesting to see," he explained. "I've enjoyed finding the correlation between religious values and morals, and comparing Judaism, Hinduism, Islam, Christianity and seeing all the similarities between them."
He could have studied elsewhere, but his tour of UL Lafayette made his decision a little easier.
"At other universities, I just fell into the crowd and I felt like no one really noticed me," he said. "But when I was touring UL Lafayette, I was talking to current students on campus and I even got invited to come watch the Floyd and Pacquiao fight. It was a more welcoming environment and I really liked that a lot."
His experiences since have lived up to his expectations.
"Everyone I've met so far has been really friendly," James said. "I haven't met anyone that has just been outright rude or trying to one-up you in any way. Everyone is very encouraging. It's a very nice community to be in."