Erica Stewart is a very involved student-athlete. Alongside her demanding curriculum as an electrical engineering major, she has served in three engineering student organizations and kept on top of her responsibilities as a Ragin' Cajun. 
"I really enjoyed being on the track and field team. It helped me be disciplined and really keep my head on straight while I was in the engineering program," she said. "I don't think people realize how disciplined you have to be as an athlete because you don't get much time to really just relax. 
"It really helps you plan out what you have to do to be more disciplined in your schedule," she said.
Finding a Home at UL Lafayette
When Erica was a senior in high school, she was recruited for her skills in track and field. In the midst of recruitment, she tore her ACL and some of her offers were retracted. She says that her injury was "a blessing in disguise because UL Lafayette was the place that I was actually supposed to be."
"One thing I will always be grateful for is UL Lafayette taking that chance on me and having faith in what I previously have done," she said. "And knowing that I could produce after my injury."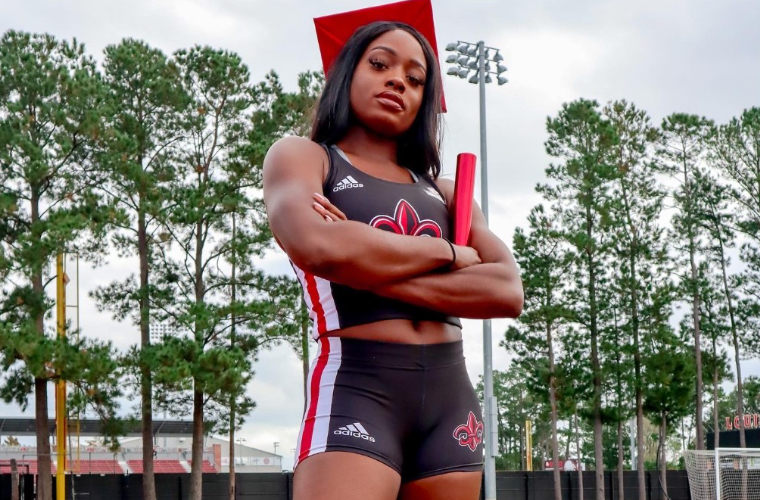 The Louisiana Ragin' Cajuns sprint coach reached out and invited Erica to see the campus. 
"I did a bunch of visits my senior year of high school and once I got here, I didn't have any doubts about it," she said. "After visiting the campus, it felt like home for me."
Erica's Focus in Class & Student Organizations
One of the features available to student-athletes like Erica is the Student-Athlete Academic Center on campus. 
"It really helps having that place where I can just focus while having peace and quiet and just basically lock myself down to get whatever information I need to get while I'm at the library," she said. 
Erica used these amenities to keep herself focused for classes like EECE 340: Microprocessors, where she built her Secret Door Knock project using an Arduino microcontroller.
"So, if you knock a certain pattern on the door, the door will sense it and unlock for you," she explained. "It's kind of like having a passcode on the door but on this door, we use a knock. I would say that was my favorite project that I did all four years."
Apart from her academic and athletic responsibilities, Erica was a member of the National Society of Black Engineers (NSBE), the Institute of Electrical and Electronics Engineers (IEEE), and she was an Engineering Ambassador. Her goal with these organizations was to recruit a diverse engineering student body.
"The National Society of Black Engineers focuses on graduating more African Americans in engineering. And I don't know if you've ever been to an engineering graduation, but the women are very scarce," she said. "So, I try to get more women on board."
Past, Present & Future With Engineering
When she was in high school, Erica originally thought she wanted to be a surgeon because of her favorite show, "Grey's Anatomy." Her high school offered curriculum tracks based on career paths, which is how she discovered that it wasn't actually what she wanted to do.
"Thank God for that high school program," she said. "So, once I figured out that's what I didn't want to do, I really started to search within myself for what I was really interested in."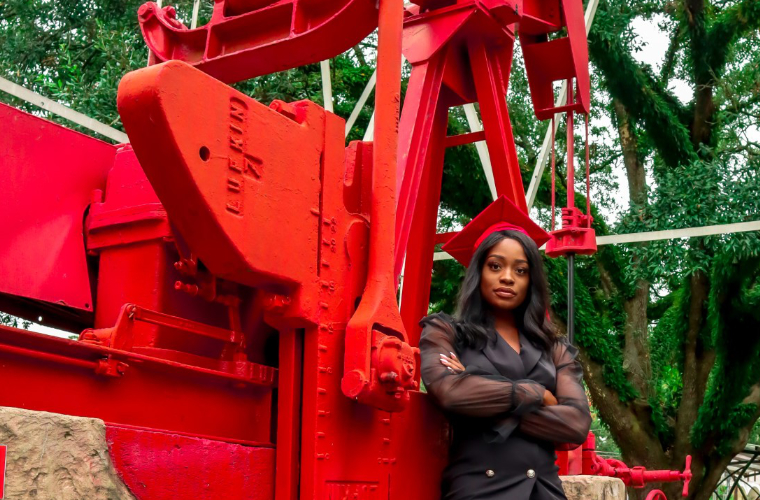 Erica's childhood hobbies helped her decide to major in electrical engineering.
"Looking back on being a kid, I always was interested in electronics and I would take apart gaming devices and phones. I was trying to take things apart and reassemble them," she said. "Just looking back on my childhood and things that I was really interested in and passionate about, that led me to electrical engineering. 
"So, I decided to go ahead and pursue a degree in it, and I am still passionate about it to this day."
Erica is now on track to be an electrical engineer for Chevron back home in Houston. She has planted roots at UL Lafayette, though, so, she is considering options for grad school here once she has worked for a few years. 
"I wanted to stay in Louisiana, specifically the Lafayette area because I really love it," she said. "I didn't want to go too far, so I can come back on weekends whenever I want."