Alexis Stackhouse's longtime commitment to volunteering led her to major in middle school education at the University of Louisiana at Lafayette.
"I'm always putting other people before me, and that makes me feel good. Putting a smile on someone else's face, like when I'm volunteering, it's not for me — it's for the people I'm helping, and I love to see that."
Alexis started volunteering at summer camps when she was a freshman in high school, and that love for helping others led to her nursing before she realized education was her passion.
"I took some education classes and I was like, 'Yes, this is it. This is my purpose,'" Alexis said.
Her freshman year at UL Lafayette, Alexis started volunteering at New Hope Tutoring in the afternoons, and that solidified her career choice as a middle school teacher.
"You're always going to have a job in education," she said. "I love that stability, and I love that you're able to do something that you truly love while you're impacting other people."
"Without teachers, you don't have these other jobs, other occupations. So I wanted to make a difference in someone's life, and I felt through teaching, that's my way of changing the world and making my impact on the world."
In the Teacher Preparation Program, which is part of the middle school education curriculum, Alexis observes in local schools to prepare her for student teaching.
"You observe the students, and you observe the teachers in the grade levels you want to teach. You're observing through their actions, how the students respond, and writing notes down," she explained.
In her classes on UL Lafayette's campus, Alexis enjoys learning from professors' experiences.
"We all talk as future educators and that has helped me open my perspective of so many things. The instructors and professors are all previous teachers and administrators, so they know – they've actually done it," she said. "Networking with them, and them being honest about their experiences, that is what is going to help me persevere in this career."
Getting Involved on Campus
When Alexis moved to Lafayette from New Orleans, she knew very few people from home — so she decided to join student organizations.
The first organization she joined was the Black Women Leadership Association, and now she's their vice president.
"I know we're at a predominantly white institution, so I joined them because they looked like me, and I knew they were for me. There was nothing but intelligent, strong, beautiful black women in this organization and I wanted to be a part of that," Alexis said. "The mentors I've gained from this organization, the professional development and going to conferences — so many opportunities have come from this."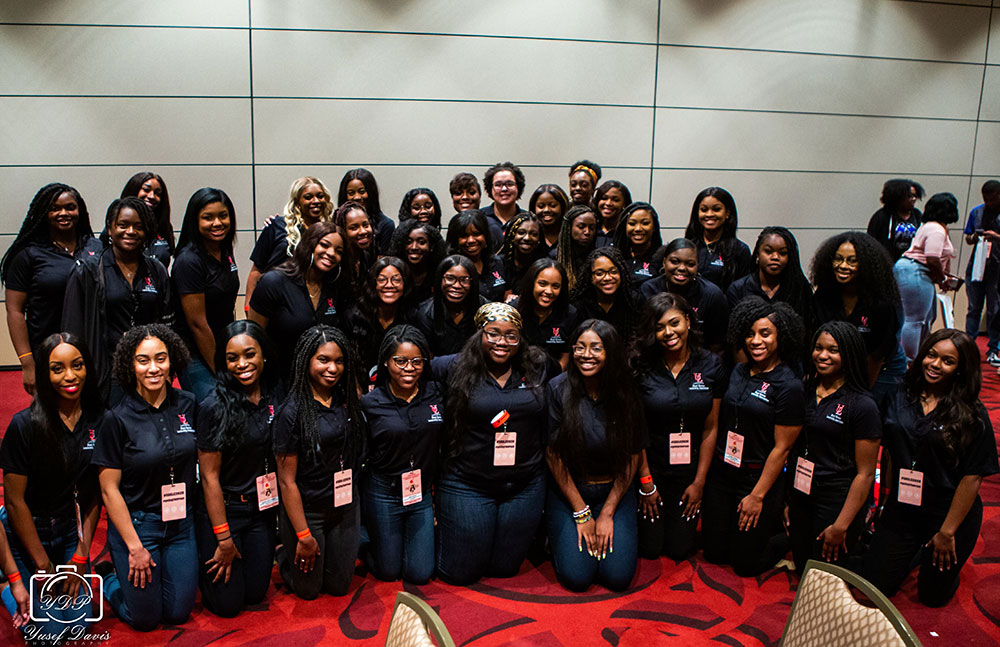 "It's allowed me connect with people on so many different levels – on campus and even outside the University. I was able to meet a fellow teacher, and she took me under her wing and let me shadow her while gaining some good advice about my career," Alexis said. "It's great to meet people and also be able to influence other women."
Alexis is also the director of event planning for UL Lafayette's massive volunteer day called The Big Event, a peer advisor for the Academic Success Center, and a member of the UL Lafayette NAACP chapter, the Black Student Union, and was previously a peer mentor.
Balancing her schoolwork, her volunteering, and her involvement on campus has taught Alexis a lot.
"It also teaches you time management and how to multitask — we do study hall, meetings, community service, and fun bonding events – but it forces you to stay on top of your work because you can't go to those things if you're stuck doing work," she said. "From my own experience, I've had to bring work with me on the go — and that is okay, because we are students first."