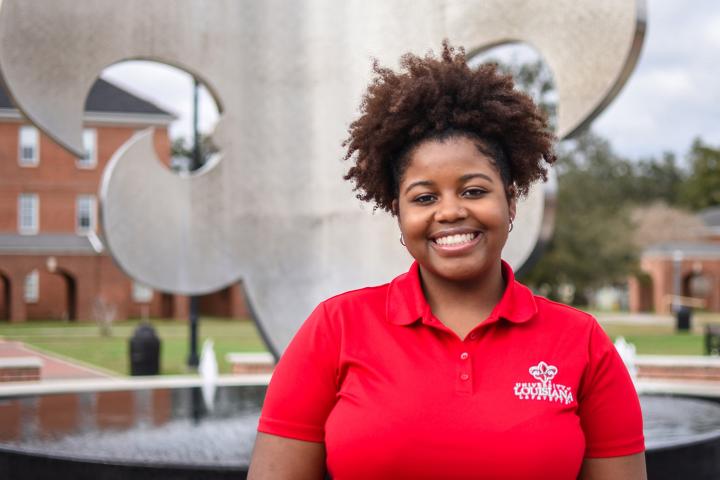 "Because of the size of our program, everything is more intimate. Our instructors truly know us and where we want to go. They care about us, break things down to make us better, and they're really open to helping us."
You should study dance at UL Lafayette if:
You have studied — formally or informally — ballet, tap, hip-hop, modern, contemporary, or other forms of dance.
You're well organized, detail-oriented, disciplined, assertive, and an effective listener.
You love other forms of art and are interested in all aspects of dance production.
You're eager to get on stage, perform, and choreograph for our mainstage productions.
As a performing arts major with a concentration in dance, you'll get valuable experience to advance as a dancer.
Collaborate with professionals in the industry and other dancers to produce and perform in mainstage productions each year, take master classes and workshops, and explore different realms of dance through your courses.
Our program prepares you for careers in dance, including choreography, teaching dance in schools or studios, and performing with professional dance companies. Our graduates are professional dancers in cities such as Houston, Hollywood, New York City, Las Vegas, and Orlando.
What's Performing Arts: Dance Like?
Research

Rehearsals & performances

Field experience

Theory

Writing

Group work & collaboration
Start performing your first semester
Dance students at UL Lafayette start auditioning and performing during the first year.
Life in the Dance Program
Immersion Right from the Start
Starting your first semester, you will be required to audition for each mainstage production for a role in the performance. You will also get the chance to choreograph for "Evening of Dance," one of our annual mainstage productions. If you aren't cast in the mainstage productions, you'll get a role working backstage, where you can learn how to run a production, create costumes, or design sets.
Internships & Experiences
Develop working relationships with professionals in the dance community through teaching opportunities, internships, and performances here in Lafayette. Our students also get hands-on experience in arts management as interns at the national American Dance Festival.
Travel & Conferences
Our dance students travel to the American College Dance Association Conference, where they perform their own original pieces or faculty- or guest-artist-choreographed works in front of internationally known dance artists.
You can also experience the artistic cultures of Costa Rica, England, France, or Italy while earning class credit. Learn more about studying abroad.