University debuts a fresh look for Louisiana.edu
Published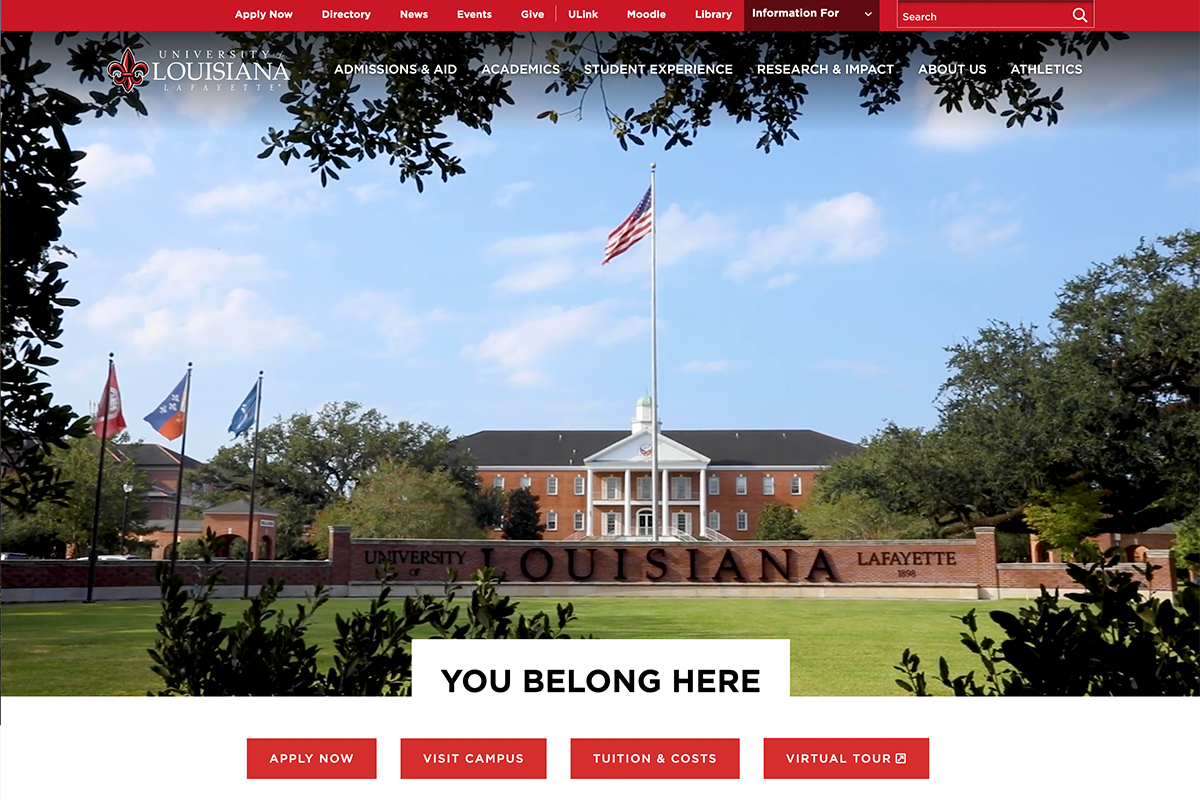 The University of Louisiana at Lafayette has unveiled a redesign of its flagship website, Louisiana.edu.
Along with a fresh and inviting look, the revamp has several new features to enhance the user experience for employees and current and prospective students, Dr. Joseph Savoie, UL Lafayette president, said Monday in a message to the campus community.
The redesigned site is a vital part of the University's strategy to attract and enroll students, Savoie said.
"It puts information about tuition, financial aid, housing and campus life at their fingertips through definite calls to action. Engaging prospective students with information in a concise, clear and accessible way empowers their decision-making."
Program pages for each of the majors and minors UL Lafayette offers feature testimonials from current students and alumni that give potential students "the opportunity to hear firsthand about the opportunities and success that await them here," Savoie continued.
"This user-friendliness – combined with the site's compelling visuals and storytelling – gives us a competitive edge in recruiting future members of the Ragin' Cajuns community. The redesign enhances our University's brand and positioning by presenting the benefits of a UL Lafayette education in an authentic and persuasive manner."
Monday's launch of the redesigned Louisiana.edu is the first step in a larger overhaul of the roughly 150 sites that make up UL Lafayette's digital presence, said Aimee Abshire. She is senior director of web and digital strategy in the University's Office of Communications & Marketing. Abshire is overseeing the website redesign project.
"We know that when students come to our campus for a visit, they are more likely to apply and enroll. With this redesign, we have captured that same welcoming spirit in an authentic way."
Abshire continued: "Louisiana.edu isn't just a website. It is the University, and this redesign engages prospective students in a conversation about who we are, where we're going, and the opportunities and experiences that we offer."