UL System, One Acadiana announce Compete LA program to re-engage adult learners
Published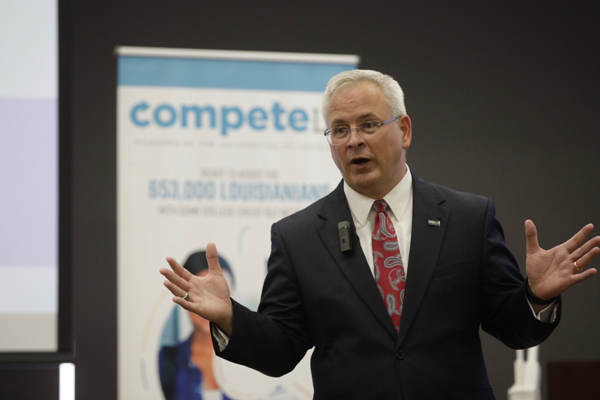 Today during the One Acadiana luncheon, University of Louisiana System President and CEO Jim Henderson announced Compete LA, a program designed to re-engage the 653,000 Louisianians with some college credit but no degree. The program is an opportunity to improve the state's second to last ranking of those with bachelor's degrees or higher.
"For Louisiana to be competitive in the economy of the future, we have to develop a more educated workforce," Henderson said. "Compete LA is designed to cut through the red tape of returning to school and provide supports at every step of the student's educational journey."
The program features adult-friendly degree programs throughout the System's nine member institutions*. Each Compete LA student is matched with a free coach to assist in identifying the best path to degree completion, re-enrollment, and academic success.
"Louisianians can compete at the highest levels provided they have the educational foundation to adapt in this new technology-driven reality," Henderson said. "The future of work offers boundless opportunities for the prepared, and Compete LA is a platform to assist our citizens in reaching their full potential."
UL Lafayette is featuring four online degree programs in Compete LA: management, health services administration, health promotion and wellness and general studies.
"Compete LA is more than a degree pathway," UL Lafayette President Joseph Savoie said. "The program will create more informed citizens, bolster the economy, and strengthen families – all through the skills and knowledge a college education provides."
This week, the Board of Supervisors for the University of Louisiana System approved a flat rate tuition for online students. The straightforward model reduces the cost of attendance for those enrolled in online programs.
Compete LA is especially relevant in this region as it is complementary to One Acadiana's 55 by 25 initiative designed to create a more educated workforce in the region.
"One Acadiana is proud to support the UL System's Compete LA initiative," One Acadiana President and CEO Troy Wayman said. "Re-engaging adults to return to school to complete their degrees will boost their earnings potential and help fill job openings, and is critical for the Acadiana region if we are going to reach our '55 by 25' goal of 55% of working-age adults with a degree or credential beyond high school by 2025."
The program was introduced in early May and Compete LA has already engaged with more than 1100 students, 600 of whom have more than 120 course credits, the typical number of hours to earn a bachelor's degree.
Students interested in finishing their degree can apply at CompeteLA.org or through the program's mobile app found in the App Store and on Google Play.
*Grambling State University, Louisiana Tech University, Nicholls State University, Northwestern State University, McNeese State University, Southeastern Louisiana University, UL Lafayette, University of Louisiana Monroe, and University of New Orleans.
Photo: University of Louisiana System President and CEO Jim Henderson discusses the new Compete LA program during the One Acadiana luncheon today. The program is designed to re-engage the 653,000 Louisianians with some college credit but no degree. Photo credit: Rachel Rafati / University of Louisiana at Lafayette