UL Lafayette's nursing simulation program joins exclusive global group
Published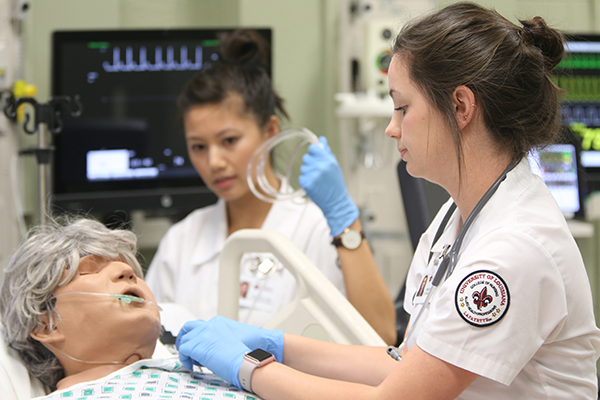 A program at the University of Louisiana at Lafayette that uses high-tech simulators to replicate bedside interactions between nurses and patients now bears an international seal of approval.
The College of Nursing and Allied Health Professions' Simulation Program is among only 100 programs in 10 countries to earn accreditation from the Society for Simulation in Healthcare and its Council for Accreditation of Healthcare Simulation Programs.
The society is the world's largest health care simulation accrediting body.
UL Lafayette's nursing college has eight simulation labs. Some resemble hospital rooms, with heart monitors, IV poles and other equipment. In the adjustable beds are "patients" – life-sized human simulators that can be programmed to exhibit symptoms and reactions a nurse might encounter.
A "patient" might show symptoms of diabetes one day, and be programmed to have a heart attack the next. It might shout "ouch" if in distress.
One of the labs simulates a critical care unit. Another reproduces a maternity unit, with a tiny, mechanized patient resting in a warmer.

Students learn to check heart rates and respiratory function. One lab enables them to practice placing an IV using virtual reality.
UL Lafayette opened its first simulation labs in 2001, said Dr. Melinda Oberleitner, dean of the College of Nursing and Allied Health Professions.
It was the first university in the state, and among only 600 medical or nursing programs worldwide, to make the technology available to its students.
Accreditation "provides external validation and recognition of the significant investments made in the program over the past two decades by the University and the college's faculty and staff," Oberleitner said.
"The availability of the latest simulation technology advances the teaching and research missions of the college, helps us to recruit outstanding students into the program, and provides a distinct advantage to our graduates as they transition into complex health care environments upon graduation."

Accreditation is a quality control process. Outside organizations regularly evaluate academic programs and higher education institutions to ensure they are performing at the highest level possible. The process includes site visits and self-assessment as well.
The evaluation team that visited UL Lafayette reported a high level of satisfaction among undergraduate and graduate nursing students who use the simulation labs. The team also noted the high quality of the equipment the labs house.
The five-year accreditation began June 5. The college can seek reaccreditation before the period ends on Dec. 31, 2023

Photo caption: UL Lafayette student nurses work in one of the College of Nursing and Allied Health Professions' eight simulation labs. (Photo credit: Doug Dugas / University of Louisiana at Lafayette)