Meet Leigh Jolivette, health information management major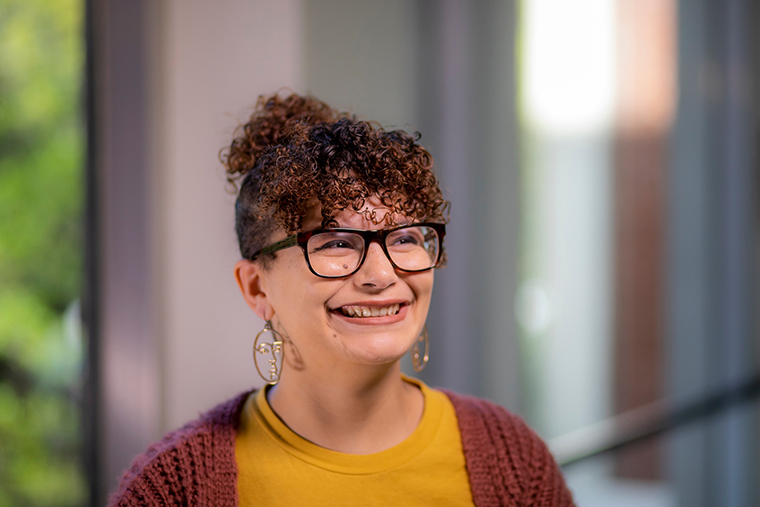 "I was interested in health information management since I knew I wanted to work in the healthcare setting, but clinical care wasn't for me. I love learning how to handle patient data and working with files and EHRs (electronic health records). I feel like I am actually going to make a difference in the business side of the medical field."
Leigh Jolivette
Graduation Year

2021

Major

Health Information Management

Hometown

Lafayette, La.
Where I'm From
I'm from Lafayette, where I always knew I wanted to work in healthcare and business.
Where I Am
I'm involved on campus, where I've learned to cultivate my leadership skills and accept myself in all ways as a queer woman and a person of color.
Where I'm Going
I'm looking forward to using my skills in my senior-year internship at hospital in Texas.
Leigh Jolivette always knew that she wanted to work in healthcare — but an interest in business led her to UL Lafayette's health information management program, which let her combine both passions.
"I was interested in health information management since I knew I wanted to work in the healthcare setting, but clinical care wasn't for me," she said. "I love learning how to handle patient data and working with files and EHRs (electronic health records)."
"The faculty is very kind and takes time to know each student. I feel like I am actually going to make a difference in the business side of the medical field."
Though health information management requires precision, Leigh's been able to express her creative side in classes, too. In her LCHI 207 class with Lisa Delhomme, they designed hospital layouts and learned how to use advanced systems and audit charts.
"This was the class that assured me that I was going to do something I loved," Leigh said. "The professor was so kind and guided us to make sure that we really understood the data we were working with. She even took the time to advise me with future career options when I felt unsure."
Outside of classes, Leigh works two jobs and serves as president of the multicultural LGBTQIA+ sorority Gamma Rho Lambda – Sigma chapter.
"It gave me a place to cultivate my leadership skills and learn to accept myself in all ways," she said. "This sorority has always been more than just a place for queer women. I have been blessed to have bonds of siblinghood with trans, agender, and ally students. Gamma Rho Lambda was the perfect choice for me because it validated my identity as queer and a person of color."
She's also a member of GLASS, which stands for Giving Love, Acceptance, Safety and Support. The annual fundraiser for GLASS is a widely popular drag show that happens in Angelle Hall every fall.
"GLASS has been so educational, so fun, and so motivating," she said. "We have a strong membership and it gave us a strong community to rely on. From winning the 2018 GLASS Drag Show to being elected as the treasurer, this GSA (gay-straight alliance) has given me so much and allowed me to use my voice to let us grow."
But the most valuable thing she's learned in school? That failure is OK.
"I have learned there is always going to be someone who doubts you, sometimes you won't have the highest grade, and sometimes you will fail. That is okay," she said. "If I stay caught up in my failures I will never move on to my victories."