A familiar face: It's a homecoming for new Ragin' Cajuns baseball coach
Published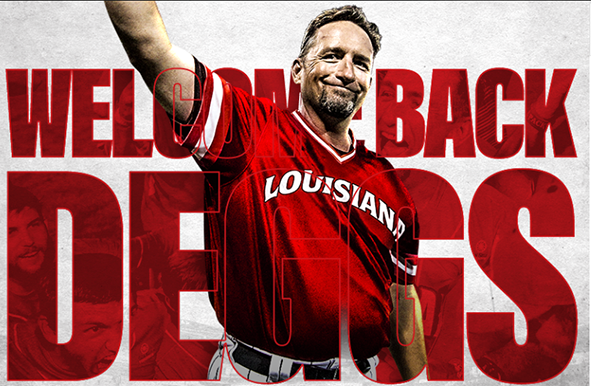 Louisiana Ragin' Cajuns Baseball has welcomed home Matt Deggs as its head coach.
He replaces Tony Robichaux, who died July 3. Robichaux coached the Ragin' Cajuns for 25 seasons.
Deggs worked under Robichaux as an assistant coach from 2012 to 2014, a period that saw the baseball team earn its first No. 1 national ranking.

Deggs returns to UL Lafayette from Sam Houston State University in Texas. He was head coach there from 2015 to 2019, when the Bearkats posted a record of 187-118, and earned Southland Conference regular season championships in three of those four seasons. Deggs guided the Bearkats to the 2017 Super Regional, becoming the first conference program to do so.
Dr. Bryan Maggard, the University's director of athletics, announced Deggs' hiring at a public event and press conference on July 18.
"Matt Deggs will not only embrace the Ragin' Cajuns baseball culture, but he already understands it. That was critical for this hire. His coaching record speaks for itself. He is a proven winner with a relentless approach to recruiting. Matt's ability and desire to reach the hearts of his student-athletes is what makes him a transformational coach," Maggard said.