Campus Cupboard, Career Closet move to new, expansive location
Published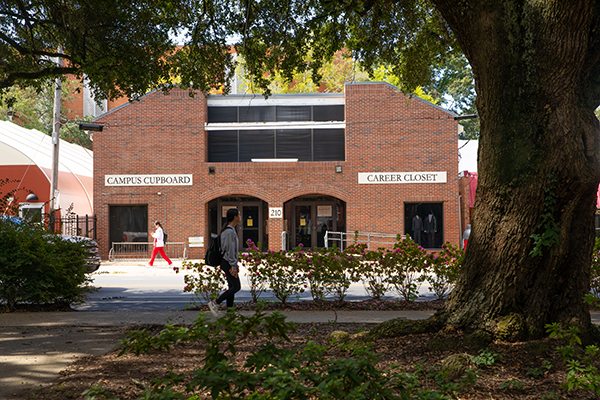 The University of Louisiana at Lafayette has expanded its capacity for assisting students who require short-term assistance meeting food needs or securing free clothing to help them succeed at job interviews and career fairs.
UL Lafayette's Campus Cupboard and its Career Closet have moved into a 9,800-square-foot building at 210 E. St. Mary Blvd. The building previously housed the University bookstore. It provides an expansive, two-story space that will better accommodate the undergraduate and graduate students who utilize each resource.
"The new location gives us the ability to increase not only the volume of food and clothing available to students, but the variety of offerings as well," said Dr. Margarita Perez, the University's dean of students.
The Campus Cupboard was previously housed in UL Lafayette's Intensive English Program building; the Career Closet was in Agnes Edwards Hall. Both programs are overseen by the University's Student Affairs Division.
The on-campus food pantry occupies the first floor of the new location. The aisles of the grocery store-style pantry hold canned and dry goods and other non-perishable food items. They also contain shampoo, toothbrushes, toothpaste, razors, soap, deodorant and other toiletries. Refrigerated food and fruits and vegetables are also now available thanks to the new building.
The Career Closet occupies its second floor. Items such as dresses, blouses, skirts, suits, blazers, sport coats, slacks, ties, belts and shoes are available. Fitting rooms are also in place.
The Campus Cupboard's shelves and the Career Closet's clothing racks are filled – and replenished – with donations from individuals, and student and community organizations, explained Kim Billeaudeau, director of the Office of Career Services.
"The ongoing support for each initiative has facilitated the move, which enables us to better serve our students from a convenient location. And we look forward to continuing to strengthen relationships with our community partners," she added.
Learn more about each initiative, including hours and how to donate, at the Campus Cupboard and Career Closet websites.
Photo caption: UL Lafayette's Campus Cupboard food pantry and its Career Closet clothing resource have moved into a 9,800-square-foot building at 210 E. St. Mary Blvd. Photo credit: University of Louisiana at Lafayette