Family Weekend activities add to Homecoming 2021 fun
Published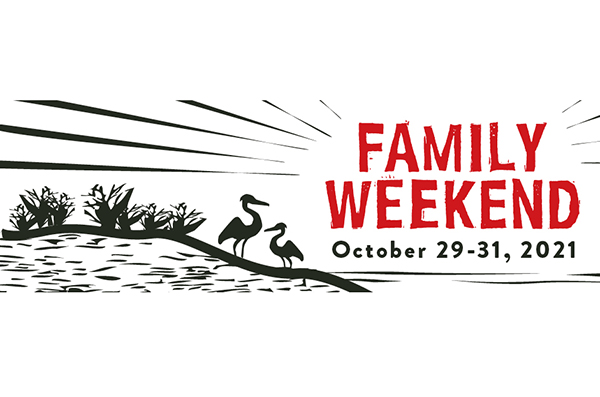 The Louisiana Ragin' Cajuns square off against the Texas State Bobcats at 11 a.m. on Saturday, Oct. 30, at Cajun Field for the University of Louisiana at Lafayette's Homecoming 2021 football game.
In the days leading up to the game, the UL Lafayette Alumni Association and University Program Council will host a parade, fashion show, decorating contests, pep rallies, and a range of other events and activities for students and alumni as part of Homecoming Week. It will be held from Sunday, Oct. 24, until game day.
The University is doing its part to keep family a focus during Homecoming, too. Family Weekend from Friday, Oct. 29, through Sunday, October 30, will feature activities and events "geared toward parents, siblings and other family members of UL Lafayette students," said Emily Covington, the University's assistant director of new student orientation.
"Family Weekend will provide an opportunity to spend time with 'your student' on campus, interact with people who are important to them, and learn about the University," she added.
A family-oriented scavenger hunt, a museum visit, and a chance to gather at a local pizzeria are among Family Weekend activities; family members of UL Lafayette students are also encouraged to attend as many Alumni Association and UPC events that are open to the public as possible.
That includes the Homecoming football game, where the price of general admission tickets will be discounted by $10 for family members of UL Lafayette students. Tickets for family members can be purchased online or at the game.
Family Weekend will begin with the Families on the Geaux Scavenger Hunt. Participants will print a checklist – a series of places to be, tasks to complete, and questions to answer. The list will be available for download on Wednesday, Oct. 27. The family-oriented scavenger hunt will end on Saturday, Oct. 30.
Points will be awarded for each assignment met; participants who earn a set number of points can enter a drawing to win prizes. Checklists will be submitted within 45 minutes of the end of the Homecoming game during a social gathering for families at Deano's Pizza, 305 Bertrand Dr.
On Friday, Oct. 29, visitors to The Hilliard Art Museum – University of Louisiana at Lafayette can roam its 11,000 square feet of gallery space for free if they mention "Family Weekend" when they arrive.
That evening, the UPC's "National Pan-Hellenic Greek Expo" will be held at 7 p.m. at the Cajundome Convention Center. Fraternity and sorority members will perform during the step show.
The show, which is open to the public, is popular among families and friends of the students who perform, Covington said. Tickets can be purchased at the Cajundome Box Office or at the event.
Game day activities will begin at 8 a.m. on Saturday, when University supporters will gather for food and refreshments at the Alumni Hospitality Tent. It will be set up near the large oak tree between Russo Park and Cajun Field. Cost is $15 per person; admission is free for Loyalty Fund donors who have contributed $50 or more.
The Homecoming Day Parade will roll at 8:30 a.m. from Blackham Coliseum, travel north on Cajundome Boulevard, and enter Cajun Field at Reinhardt Drive. The procession will wind around Cajun Field before exiting onto Bertrand Drive.
On Sunday, Oct. 31, immediate family members of UL Lafayette students will be able to unwind at Department of Recreational Sports facilities. Family Day with Rec Sports will be held from 10 a.m. to 6 p.m. at Bourgeois Hall, 225 Cajundome Blvd. Participants must present IDs and be accompanied by a UL Lafayette student; students will be required to present University IDs.
View a schedule with all Family Weekend events. Join the email list and the UL Lafayette Parents and Family Facebook Group to receive Family Weekend event updates. Email questions about Family Weekend to parents@louisiana.edu.
Graphic credit: University of Louisiana at Lafayette