You should minor in military science if:
You want to join the ROTC program and start your career in the U.S. Army or National Guard.
You're interested in military strategy, history, and diplomacy.
You want to develop your skills as a leader and problem solver.
The military science minor is open only to students who join the University's ROTC program. Earning your minor in military science — while you complete the ROTC program and qualify for commission as an officer — will give you a deeper understanding of military tactics, leadership, and justice.
Many of the classes for the military science minor overlap with the requirements for the ROTC program, including summer camp at Fort Lewis and leadership development courses. 
Life as a Military Science Minor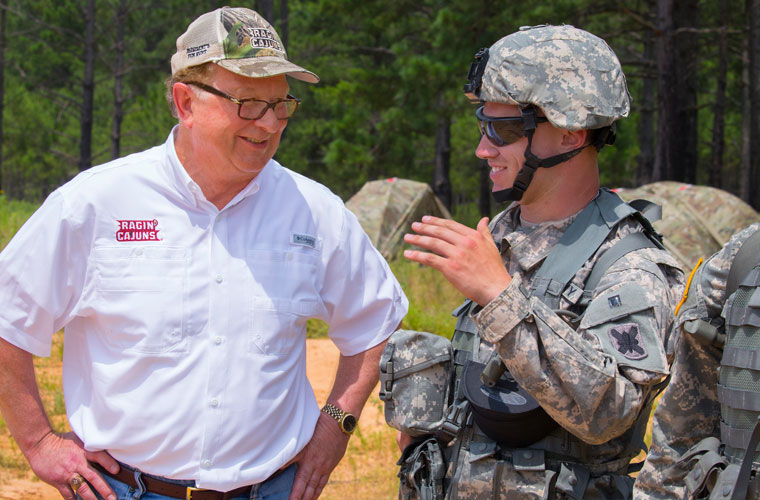 Advance Your Leadership Skills
The military science minor can help you become a better leader, communicator, and problem solver. You'll gain an advanced understanding of leadership and management, which will help you stand out as you begin your military career.
Just a Few Extra Classes
Almost all majors on campus require a minor, and you can complete your military science minor with just a few extra classes. As an ROTC member, many of the classes required for the minor are also classes that are required for your ROTC commitment.
View the curriculum
Tradition of Excellence
The University of Louisiana at Lafayette and the United States Army uphold a shared tradition of excellence through the Department of Military Science. We provide the academic opportunities for students to reach their full potential as officers.
About the military science department
Personal Advising & Mentorship
All ROTC students get individualized advising to ensure that you complete all requirements for the ROTC program, the military science minor, and your major — so you graduate on time, even with the additional commitments of ROTC.
more about advising