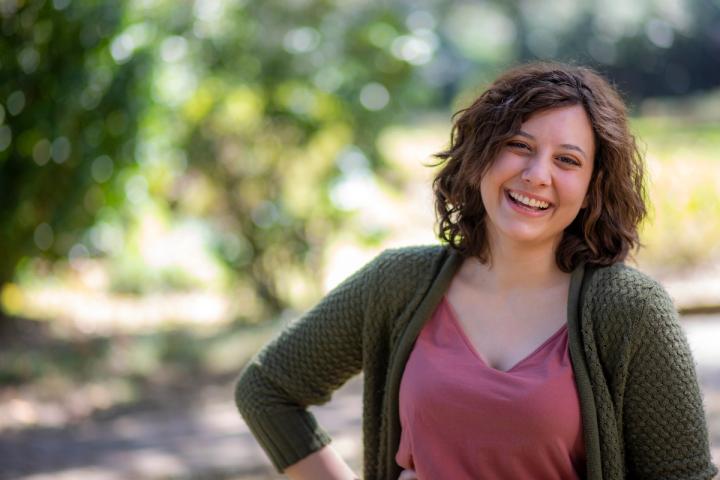 "Our entire program is dedicated to preparing us for our job. Rather than taking tests and doing homework, we go out into the field and write stories like real reporters. I feel confident in my craft and I learn something new about journalism every single day."
You should major in mass communication if:
You enjoy speaking with people of all interests and backgrounds.
You want a media career such as multimedia journalist, TV anchor, or documentary filmmaker.
You have a broad curiosity and are eager to learn, write about, and report on many subjects.
 
Get ready to enter the fast-paced world of news and media.
With a major in mass communication, you will build a portfolio through hands-on classes and internships. Learn to be a journalist by focusing on written publications or multimedia productions. Discover how to research, interview, and learn the production skills to bring your story to life.
Mass communication majors dive into reporting and storytelling careers, working as news reporters, multimedia journalists, news editors, sports journalists, sports commentators, TV anchors, video producers, or documentary filmmakers.
Mass communication majors at UL Lafayette choose between two concentrations:
Other Mass Communication Programs at UL Lafayette
Mass Communication at UL Lafayette
What's Mass Communication Like?
Internships

Lab & studio work

Reading & writing

Theory

Interviewing

Group work & collaboration
This distinction means we are among the top journalism programs in the country.
Life as a Mass Communication Major
Internships
All mass communication majors are required to complete an internship. Internships give you hands-on reporting and producing experience at Lafayette's broadcast stations and for online or print publications. Examples of broadcast and production internships include opportunities at Acadiana Open Channel and our on-campus radio station KRVS Radio Acadie.
More about internships
Studios & Labs
Learn how to operate cameras, run a show, and create story packages in our full-scale TV broadcast studio, audio and video production labs. The Department of Communication has its own library, specialized computer lab for student work, and a fully functioning broadcast studio with video equipment for advanced courses in broadcasting and moving image arts.
Travel & Network
Go abroad with the Department of Communication and the Study Abroad program with classes on travel writing, photojournalism, and more. Or, stay closer to home by traveling to conferences across the country to meet professionals. Developing these valuable connections will catapult you into the news industry after graduation. Student organizations like the National Broadcasting Society, Broadcasting Education Association, Society of Professional Journalists, and National Association of Black Journalists provide additional networking opportunities.