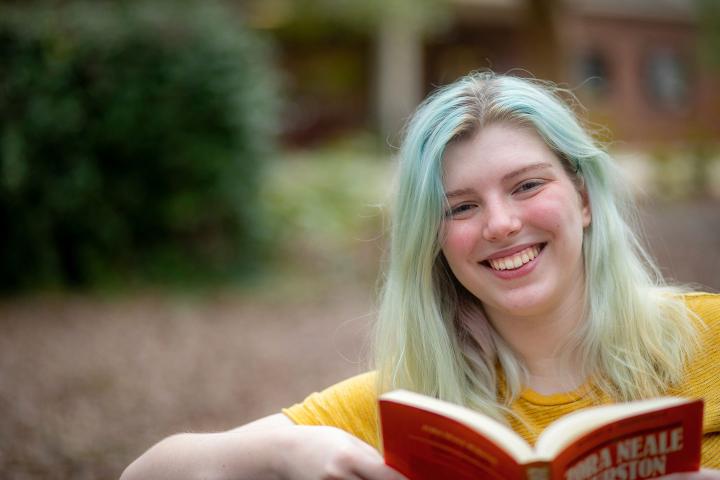 "I've always loved hearing and telling stories. It's manifested itself in my art, my stand-up comedy, and my love of reading and writing. The creative writing program at UL Lafayette allows me to take my love of stories and turn it into a degree."
You should major in English if:
You pay close attention to language.
You are interested in diverse perspectives.
You regularly read or write just because you enjoy it.
English lets you explore many dimensions of language, literature, and culture. Our faculty has expertise in everything from literature to linguistics, folklore to film, creative writing to technical writing, rhetoric to cultural studies.
As an English major, you'll develop the writing, reading, research, and critical skills necessary to adapt to a variety of careers. With the ability to communicate and learn quickly, you'll be prepared to pursue a range of opportunities.
What's English Like?
Group work & collaboration

Internships

Writing

Reading

Research

Critical Analysis
25%
of the English curriculum is electives, allowing you to personalize your education.
Work with Faculty Mentors
Explore a topic of interest with the help of a faculty mentor. English faculty have a range of interests and can help you identify and complete research and writing projects meaningful to you. You can work closely with our linguists, folklorists, professional writers, poets, dramatist, novelists, rhetoricians, and literary scholars.
Take a Senior Seminar
As a senior, take a capstone course that allows you to explore a topic of interest or create a writing portfolio.
Work on Publications
Explore your passion for writing and publication by contributing to and working for The Southwestern Review, the English program's in-house literary journal.
Explore Our Publications
Complete an Internship
Learn how your skills apply to the workplace by completing an internship. You will have the opportunity to write articles, technical documents, and web content for local magazines, businesses, and nonprofits.
Explore Internship Opportunities