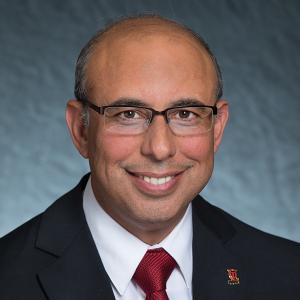 Dean of the College of Engineering
Professor
Biography
Dr. Ahmed Khattab is the Dean of the College of Engineering at the University of Louisiana at Lafayette. He joined the University in 2007 and in July 2020, he was named the seventh Dean to lead the College of Engineering since its establishment in 1940. Dr. Khattab is a professor in the Department of Engineering Technology and a graduate faculty member in the Department of Mechanical Engineering. Dr. Khattab's past roles include serving as interim dean and associate dean of the College of Engineering, interim director for the Institute for Materials Research and Innovation, and graduate program coordinator and acting head of the Department of Engineering Technology.
 
Dr. Khattab earned his Ph.D. in mechanical engineering from the University of Missouri-Columbia, and master's and bachelor's degrees in mechanical engineering from Alexandria University in Egypt.
 
Dr. Khattab has a passion for engineering education and leadership. In 2018 he completed the Leadership Lafayette Program, Class XXXI and in 2022 he completed the Harvard Institute for Management and Leadership in Education program.
 
He has over thirty years' experience in teaching, research, and development with over 20 years of experience in the fields of advanced materials processing, high-temperature polymer composites and nanocomposite materials. His history spans three universities, in two States (Louisiana and Missouri) and two Countries (U.S. and Egypt). His industrial experience includes working as a mechanical engineer for Caterpillar early in his career.