U.S. News & World Report: Online bachelor's program best in state
Published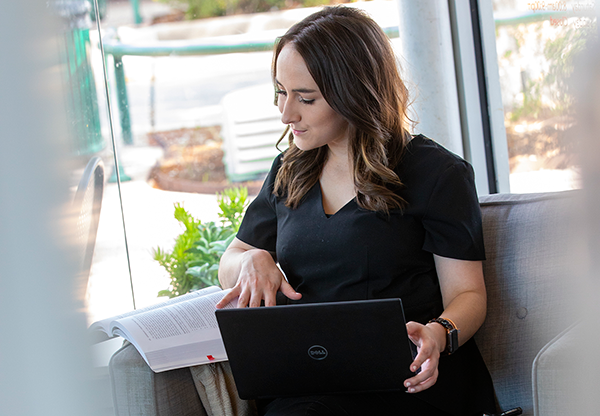 The University of Louisiana at Lafayette remains the state's top university for online bachelor's programs for the fourth year in a row and has made steady gains in recognition for its online graduate programs, as well.
U.S. News & World Report released its annual 2020 Best Online Programs Rankings on Tuesday. UL Lafayette was No. 106 in the Best Online Bachelor's Programs category, higher than all other Louisiana universities and colleges.
In addition, the University's Master of Education in Curriculum and Instruction online program was also ranked highest in the state.
The University offers five fully online undergraduate programs in general studies, management, health promotion and wellness, health services administration, and a pathway for registered nurses to earn their bachelor of science degree in nursing.
While students may not meet their instructors face to face, faculty and advisers strive to establish meaningful connections, said Dr. Rachel Ellison. She is the health services administration program coordinator and assistant professor, and is among nearly 400 UL Lafayette faculty specially certified to teach online.
"We're proud to be recognized and believe it's a direct reflection of the support we provide students in their pursuit of a quality education," she said.
Ellison continued: "We're also extremely proud of our students, who make their education a priority while balancing other responsibilities. Many of our graduates don't stop with their bachelor's degree and continue their education to the graduate level to become leaders in their field."
Other Louisiana colleges and universities that offer online bachelor's degree programs were also ranked, with Loyola University at No. 143, Nicholls State University at No. 152 and the University of Louisiana at Monroe at No. 251.
U.S. News & World Report bases its report on a survey, taking in factors such as student engagement, faculty credentials and training, student services, and technology and peer reputation.
The University's online graduate programs also continued to rise in the annual report.
The Master of Education in Curriculum and Instruction program rose among the 2020 Best Online Education Programs to No. 89 from No. 166, taking its place as the top-ranked program in Louisiana for the second consecutive year.
Dr. Toby Daspit is associate professor and interim department head of Educational Curriculum and Instruction. He said the program "prepares a new generation of teacher leaders for rapidly changing educational contexts."
"The accelerated online format enables teachers to remain employed full-time and use their educational experiences to develop the knowledge, skills and dispositions of instructional specialists," Daspit said.
"This ranking demonstrates the quality of experiences offered to our students in their interactions with our diverse faculty and the high expectations of the program," he added.
The University's Master of Science in Nursing degree program also rose from No. 65 to No. 45 among the 2020 Best Online Nursing Programs in the country.
The B.I. Moody III College of Business Administration's MBA online program rose from No. 153 in 2019 to No. 149 in 2020 for Best Online MBA.
UL Lafayette offers 12 online and hybrid graduate degree and certificate programs, designed for working professionals to gain the knowledge and skills to advance their careers.
"UL Lafayette's graduate programs are widely recognized among peer institutions, employers, and alumni for their ability to cultivate leaders and prepare students for challenges in an evolving and increasingly global society," said Dr. Mary Farmer-Kaiser, dean of the UL Lafayette Graduate School. "Our faculty walk with students on their journey as mentors, whether they're on our campus or studying online."
Learn more about the University's accredited online degree and certificate programs at online.louisiana.edu
Photo caption: Several online programs at UL Lafayette again topped U.S. News & World Report's annual rankings. (Photo credit: Rachel Rafati / University of Louisiana at Lafayette)