Students learn manufacturing process called hydroforming
Published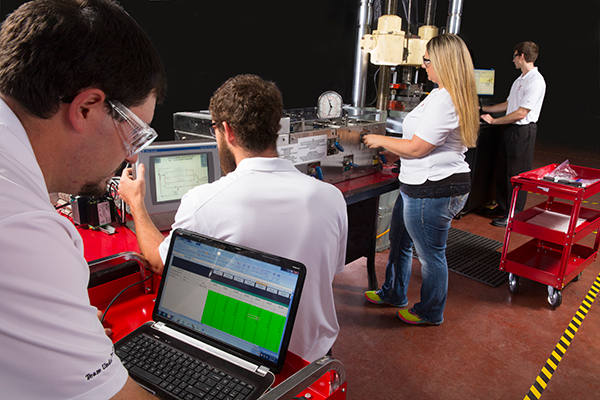 Mechanical engineering students at the University of Louisiana at Lafayette are learning a high-tech manufacturing process that transforms small pieces of metal into everything from tiny computer components to plumbing fixtures to auto parts.
The process, called microscale hydroforming, involves shaping sheet metal with jets of pressurized fluid. It unfolds inside a large machine that looks similar to a drill press. The metal is clamped against a die, or mold, inside a chamber. Fluid is injected into the chamber at high pressure via hoses, which causes the metal to conform to the shape of the mold.
Hydroforming can transform pieces of metal as small as two inches by two inches to less than 1 millimeter thick. The action must be carefully calibrated. Too much pressure will puncture the metal; not enough will fail to shape it.
Students learn at what pressures certain metals will burst, and how much fluid pressure is needed for certain projects. The system is controlled by computer commands.
Dr. Will Emblom, an instructor of mechanical engineering, said the system enables students to gain experience with a manufacturing technique that's widely used in industry.
"It's a first-rate test facility where students can learn about the hydroforming process and apply that knowledge to solving engineering problems," he said.
The system is also significant, he added, because students designed it. It utilizes air pressure rather than hydraulic pumps. This means it can be primed in a couple of minutes, instead of the up to half an hour once required.
Students also sought out industry partners who contributed knowledge and equipment. "They figured out what they needed, and went out and established contacts who agreed to assist them with the project," Emblom explained.
They received technical input and donations from several companies: Danos – American Pneumatics Inc., Begnaud Manufacturing, CAD Control Systems, Denbury Resources, the International Society of Automation, Moody Price, Nobel Plastics, Nolan's Machine Shop, Reliable EDM, Stella Maris, and Team Industrial Services.
Mechanical engineering students who worked on the system are: Martin Aveton, Chris Kord, Mauria Magnon, Katie Poche, Cody Romero, Adam Sellers and Alice Tate.
"This hydroforming system is something that we will be able to use for years to come," Sellers said.
The experience students gain by using the new system is helping them land jobs, Emblom said.
"It's great for students who want employment at companies where manufacturing is a big component, but the fact that we have this hydroforming system is also beneficial for industry, which is in constant need of a well-trained workforce," he said.
Photo: Mechanical engineering students are learning a manufacturing process called hydroforming. It involves shaping small pieces of metal, into everything from tiny computer components to auto parts, with jets of pressurized fluid.