Social mobility aim of University's Louisiana Educate Program
Published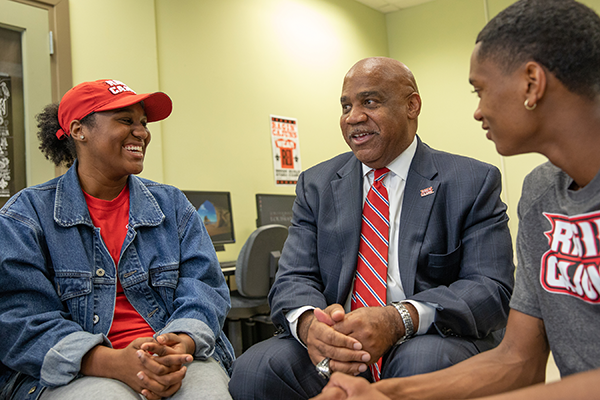 Anthony Jupiter and Akiem Martin have a lot in common.
Both are 19-year-old freshmen at the University of Louisiana at Lafayette. Both live in Baker Hall and have a work-study job in DeClouet Hall. Both are on track to earn bachelor's degrees in engineering. Jupiter is a civil engineering major. Martin is a mechanical engineering major.
The pair also played against each other as members of their respective high school basketball teams in New Orleans, although they didn't make the connection until meeting at UL Lafayette.
The competition, however, is over. Jupiter and Martin are close friends.
"We relate to each other since we have similar goals and belong to the same program," Martin said.
Jupiter and Martin are among the first group of students taking part in UL Lafayette's new Louisiana Educate Program. The pilot program began this semester. It's in place to help academically accomplished, lower-income students remain in college, said Dr. DeWayne Bowie, the University's vice president for Enrollment Management.
"It's geared toward a demographic typically susceptible to dropping out due to a range of factors, including low-income backgrounds that require many to seek financial support from parents who often aren't in a position to provide it," Bowie explained.
"Some find it hard to stay in school. That's unfortunate, because education is the gateway to opportunity and success."
Forty-three first-time freshmen from New Orleans were accepted into the Louisiana Educate Program. Bowie is optimistic the program can be expanded to other parts of the state. "We set a goal for an initial cohort of 24 students, but received more than 100 applications. So, the hope going forward is to enroll between 80 and 100 students in the program each fall."
The Louisiana Educate Program is funded by a blend of private gifts, institutional grants and federal and state financial aid. Students must take out the maximum amount of student loans for which they qualify. They must also qualify for federal Pell Grants and for TOPS, the Taylor Opportunity Program for Students.

Students participating in the Louisiana Educate Program are placed in a work-study job on campus. They can't, however, hold jobs off campus. "We want to make sure they're fully engaged. They are monitored closely with, for lack of a better word, intrusive attention," Bowie said.
Students must attend at least six hours of study hall each week. They are required to live in the same residence hall during their freshman year, join two student organizations, attend four on-campus or University-related events per semester and complete internships.
Jupiter said he likes many aspects of the program, but finds the weekly requirement to hit the books in study hall has "really helped me."
"I might not attend as often if it wasn't mandatory," he explained.
Rachel Sam, an academic success coach at the University, coordinates the Louisiana Educate Program. She meets weekly with students to gauge their progress and provide guidance, from tips about time management to information about campus services.
"We want to do as much as we can to put them in a position to succeed," she said.
Students having difficulty meeting requirements are counseled, Bowie said. "Those who can't get back on track ultimately won't be able to stay in the program. They will, however, be able to remain enrolled at the University provided they meet continuation requirements."
The Louisiana Educate Program is modeled on a similar program for Louisiana Ragin' Cajuns student-athletes. "They graduate at the highest rate among schools in Louisiana and the Sun Belt Conference, according to the most recent Federal Graduation Rates statistics," Bowie said.
Planning for the Louisiana Educate Program began last November. Donors from New Orleans approached the University about creating a partnership due, in part, "to its reputation for promoting social mobility," Bowie said.
A report issued last year by the Brookings Institution ranked UL Lafayette the ninth-best four-year, public university in the United States for managing to "simultaneously produce important research while extending social opportunity to students from underprivileged backgrounds."
The nonprofit public policy organization based in Washington, D.C., evaluated 342 schools with selective admissions.
The Brookings Institution isn't alone in praising UL Lafayette's focus on social mobility.
The commitment was backed up recently by Richard Barth, chief executive officer of the KIPP Foundation. The Knowledge is Power Program is a network of free, open-enrollment college preparatory schools across the nation with a high percentage of lower-income students.
Barth wrote an op-ed piece published at Forbes.com that singled out several colleges and universities – including UL Lafayette – for their efforts to help students from low-income backgrounds thrive.
"The recognition underscores the University's ongoing dedication to making a difference in the lives of all of our students," Bowie said.
Photo: Forty-three first-time freshmen from New Orleans were accepted into the Louisiana Educate Program. The pilot program began this semester. It is in place to help academically accomplished, lower-income students remain in college. Shown, from left, are: Majai Russell, a chemical engineering major, Dr. DeWayne Bowie, the University's vice president for Enrollment Management and Anthony Jupiter, a civil engineering major. Doug Dugas/University of Louisiana at Lafayette