Series highlights French literature, crawfish boats and cabarets
Published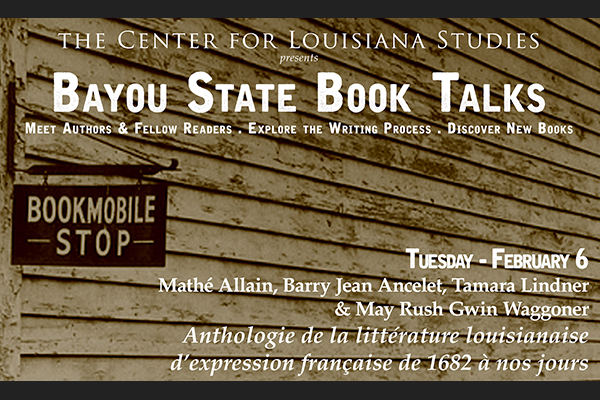 Four authors will discuss their new anthology of French-language literature in Louisiana at the debut of the Bayou State Book Talks' fifth season.
The University of Louisiana at Lafayette, its Center for Louisiana Studies and the Lafayette Public Library System are the event's co-sponsors.
UL Lafayette Press published Mathé Allain, Barry Jean Ancelet, Tamara Lindner and May Waggoner's Anthologie de la littérature louisianaise d'expression française de 1682 à nos jours last year.
It compiles poems, short stories and plays produced in Louisiana from the colonial period to the late 20th century. The book also includes transcriptions of Cajun and Creole oral traditions.
Allain, Ancelet and Waggoner are retired professors in the University's Department of Modern Languages. Lindner is an associate professor of French and Francophone Studies.
The discussion will begin at 6:30 p.m. on Feb. 6 at the Lafayette Public Library, 301 W. Congress St. Anyone may attend the free event.
Books will be available for purchase and signing.
Bayou State Book Talks is a monthly discussion series led by authors from Louisiana whose work explores the state's culture and history.
In addition to the inaugural panel Feb. 6, the 2018 series will include: UL Lafayette English professor John Laudun, author of The Amazing Crawfish Boat, on March 13; and Dennis Ward, author of Mademoiselle Gigi and Madame Gigi, both published by UL Lafayette Press, on April 10.
Visit the Center for Louisiana Studies' website, http://louisianastudies.louisiana.edu, for more information.