Officials celebrate Cleco Alternative Energy Center
Published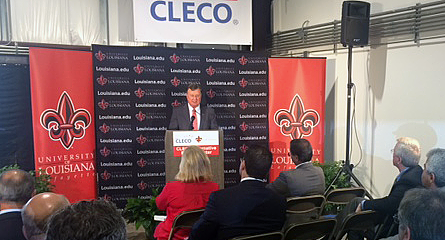 Cleco and the University of Louisiana at Lafayette showed off the Cleco Alternative Energy Center Wednesday, where researchers explore ways to generate power by using renewable resources.
The center is part of the five-acre UL Lafayette Energy Development Complex in Crowley, La. It was created in response to a directive from the Louisiana Public Service Commission to Louisiana power producers to evaluate technical and economic aspects of producing electricity power from sustainable materials, rather than fossil fuels.
A ribbon-cutting ceremony was attended by state, local, industry and university officials, who also toured the facility.
Pilot-scale equipment in the center lets researchers test alternative methods more quickly and affordably than full-scale facilities. Key alternative energy technologies under evaluation at the center include solar thermal, biomass-fed gasification, and anaerobic digestion. Gasification is a heat process used to convert carbon-based material into a gas.
Potential energy sources include rice hulls, sugar cane bagasse, sweet potatoes and switchgrass.
Research projects include the evaluation of new reflector materials for solar thermal power production; production of methane using Louisiana food industry wastes; and recycling waste gas for enhanced energy conservation. Research funding is provided by industry, regional and state government, and the federal government.
"The center will help all of us – working together – to be socially, economically and environmentally conscious, leading to greater energy independence and energy diversification," said Dr. Joseph Savoie, UL Lafayette president.
In addition to providing research of alternative fuel sources, the Cleco Alternative Energy Center is a hub for economic development in Louisiana. Over 10 research projects are under way at the center that produce electrical power that's being fed into the regional Cleco grid.
"With this facility, we started with a mission to gather data on possible renewable energy sources specific to Louisiana," said Darren Olagues, president of Cleco Power. "While we are achieving our mission, this facility has provided economic development benefits by assisting other renewable energy businesses that offer jobs and a possible future for alternative energy."
The center is also a learning tool for UL Lafayette and South Louisiana Community College students, who can observe process operations and participate in testing various systems.
There are plans to add buildings and process equipment at the complex, including fermentation systems, algae cultivation systems, a biodiesel production unit, and a pilot gas-to-liquid catalyst system. A company is developing plans to locate a research and development facility at the center to test gas-to-liquid processes. And, educational opportunities at the center will be expanded.
Cleco has provided about 70 percent of the costs of the $8 million facility. The state Department of Natural Resources, working with the U.S. Department of Energy, provided about 20 percent; UL Lafayette has provided about 10 percent. The Acadia Parish Police Jury helped acquire the land in Crowley Industrial Park through by trading property with the University of Louisiana at Lafayette Foundation.
The center features:
a 3-ton per day biomass-fed gasifier which converts biomass into either power or chemicals, through the production of synthesis gas;
a 200-foot-long solar thermal concentrating array system that uses reflected sunlight to produce power via heated fluids, such as steam;
a 65 kW ElectraTherm Green Machine, which is a heat-to-power generating system that captures solar-based heat to generate fuel-free, emission-free electricity;
a 0.25 ton per day biomass torrefaction unit, which thermally converts biomass, such as wood chips, into biocoal or biochar;
a mobile 250-gallon anaerobic digester system, which converts waste products into methane;
a large, high-bay pilot testing area that provides capacity for other pilot-process systems to be developed;
a fully equipped, state-of-the-art analytical laboratory; and
a biomass feedstock storage area.
Cleco and UL Lafayette worked together to oversee the design and construction of the center and its power production processes. Partners in this effort were the Southwest Group of Lafayette, La.; EDG, Lafayette, La.; Northstar Resources, Jasper, Texas; Turner Industries, Baton Rouge, La.; and Petron, Alexandria, La.
Industry partners that have worked with UL Lafayette and Cleco toward the commercialization of power and chemical production include Northstar Resources; NFR Bioenergy; EnerSciences; 3M; Southwest Group; Gossamer Space Frames; ElectraTherm; Louisiana Biofuel Resources; Earth Partners; Sundrop; and EnviroAir.
Caption: Dr. Joseph Savoie, president of the University of Louisiana at Lafayette, speaks at the Cleco Alternative Energy Center on Wednesday.