NSF recognition puts UL Lafayette computer scientist in elite company
Published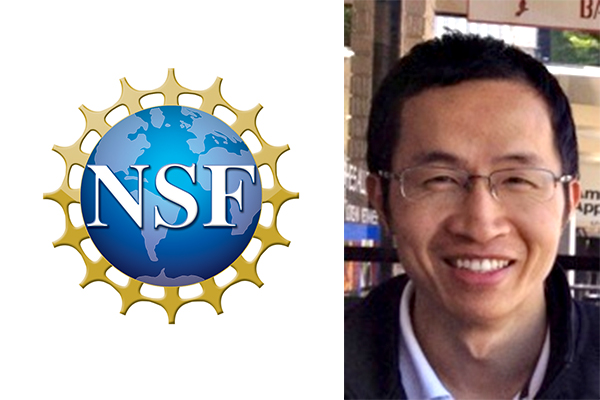 A University of Louisiana at Lafayette faculty member has received one of the National Science Foundation's most prestigious awards.
The NSF's Faculty Early Career Development Program recognizes researchers, such as UL Lafayette's Dr. Sheng Chen, who are in the early stages of their academic careers. The program's CAREER Award acknowledges a faculty member's potential as a researcher and a teacher.
Chen is an assistant professor in the University's School of Computing and Informatics. He joined the faculty in August 2015 after earning a doctorate in programming languages at Oregon State University in Corvallis.
A five-year, $506,000 grant accompanied the recognition. Chen will use the money to enhance his research of type systems. Type systems are parts of a programming language that identify errors. But the error messages users receive are often imprecise and unhelpful in finding a solution, Chen said.
"Productivity and correctness of the program are so important. My goal is to try to add certain features that make program languages more useful or to try to detect more problems before you run your program."
There are everyday examples of type systems outside the realm of programming, Chen said.
"Look at that outlet," he said, pointing to his office wall. "We don't worry about its appearance. The only thing we worry about is that it satisfies certain requirements – can we plug something into it and power a device?"
Like a type system, the size and shape of the receptacle and its openings stop a user from "doing wrong things," Chen explained. "For example, I cannot put my USB into that outlet."
Type systems and their detective skills can also head off disasters with hefty price tags. NASA's failed Mars orbiter provides a cautionary tale, Chen said.
The space agency lost the $125 million spacecraft in 1999 when NASA's engineers used the metric system while a contractor's engineers used English units. The misalignment blocked communication between the orbiter and crews on earth, and the craft was never seen or heard from again.
Chen said his research would have enabled NASA to better detect – and possibly fix – the problem beforehand.
"When we talk about values, they all have measures. Some are centimeters. Others are meters. When we talk about temperature, we have Fahrenheit and Celsius.
"In programming, we don't have that kind of support. But such errors can be well detected with my work. I can add a unit of measure to the program."
The NSF recognized 557 CAREER recipients in 2017. The awards go only to faculty members whose institutions rank them as assistant, or entry-level, professors.
Chen is the fifth UL Lafayette faculty member to receive the award, said Dr. Azmy S. Ackleh, dean of the Ray P. Authement College of Sciences.
The others were Dr. Danella Zhao, a 2011 honoree; Dr. Miao Jin, in 2009; Dr. Dmitri Perkins, in 2005; and Dr. Hongyi Wu, in 2004.
Like Chen, each taught in the School of Computing and Informatics, which the College of Sciences oversees.
"This is one of the most prestigious funding awards early-career faculty can get," Ackleh said. "It shows the caliber of faculty we have in the College of Sciences. Their research ideas make them competitive at the national level."
The NSF is an independent federal agency. It provides funds for nearly a quarter of all federally supported research American colleges and universities conduct.
It first presented the CAREER Award in 1995.
Photo: Dr. Sheng Chen (Credit: University of Louisiana at Lafayette / Logo courtesy of the National Science Foundation)