New national ad invites prospective students to 'Dream Big' at University
Published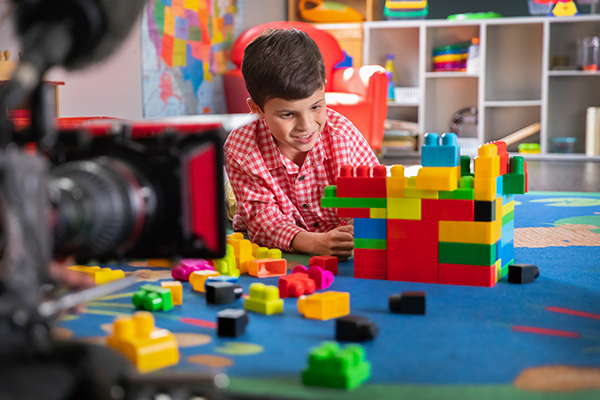 Louisiana Ragin' Cajuns fans, be on the lookout.
The University of Louisiana at Lafayette's new national commercial will be broadcast during Saturday's game against Ohio University. (Can't wait? You can also view it below.)
The 30-second spot is titled "Dream Big." It contrasts images of children playacting careers with shots of UL Lafayette students performing those same roles in University settings.
Six area children are featured along with adult actors portraying grown-up counterparts. Filming took place this past summer in an area home and at several campus locations, including the Child Development Center and the Quadrangle. 
The Office of Communications and Marketing produced the commercial. Christopher Jones, University multimedia specialist, helped develop the ad's theme. 
"We wanted the commercial to remind viewers that childhood dreams stay with us well into adulthood and often guide the decisions we make, including what careers we pursue and where we choose to prepare for our professions," Jones said.
Aimee Abshire, the University's interim chief communications officer, oversaw the project. She said the commercial reflects the University's role "as the gateway to a promising future for so many through its emphasis on social mobility and personal fulfillment."
"We have provided opportunities for people to follow their passions and realize their dreams for more than 120 years. We're proud of that legacy, and the commercial certainly conveys that pride," she said.
Music by Royal Teeth – an upbeat, alt-pop band that includes a trio of UL Lafayette alums – is featured. The song, "Wild," was written in 2010 in a home on Lafayette's Wilson Street then shared by current singer Gary Larsen and former bassist Joshua Wells.
The house was within walking distance of the University, said Royal Teeth drummer Joshua Hefner, '08. Its inclusion in the commercial has brought the song "sorta full circle," he said.
"With all the amazing talent in Lafayette, it is an honor that the University thought of us for the spot," Hefner added.
Guitarist Thomas Onebane and singer Nora Patterson are also University graduates. They, along with Hefner, Larsen, Wells, and former bandmates Stephen Billeaud and Andrew Poe, wrote "Wild." The song appeared on Royal Teeth's first full-length album, Glow, in 2013.
UL Lafayette's "Dream Big" commercial debuted nationally Aug. 31 during ESPNU's broadcast of the Louisiana Ragin' Cajuns football home opener. Saturday's game against Ohio University can be seen on ESPN+, a streaming service. Kickoff is 1 p.m.
The commercial also will appear on screens during home athletic events. It's slated for broadcast on local television stations, too.
Holbrook Multi Media filmed the commercial and provided postproduction assistance. The Lafayette-based company also collaborated with the University on its past two national spots.

Photo caption: Thomas Kreamer gets ready for his close-up during filming this past summer for UL Lafayette's newest national commercial, "Dream Big." (Photo credit: Doug Dugas / University of Louisiana at Lafayette)