Meet music education major Katy Meaux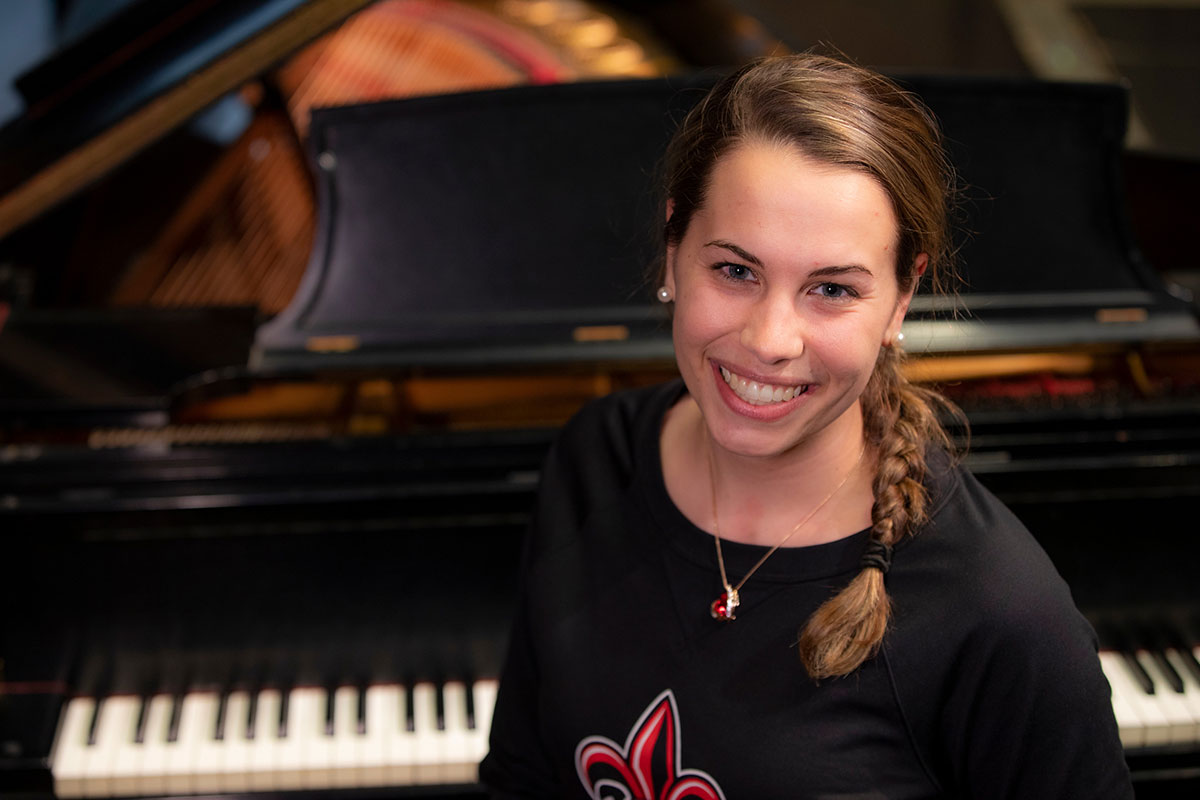 "I'm learning a lot. I already feel like I'm more comfortable in the classroom, and I'm finding my teaching style. I'm very happy that I get full-year student-teaching experience — you get to know the students better, and now they know me, they trust me. They understand that I'm also learning, and they want to help me run the class as best I can."
Katy Meaux
Major

Music Education

Hometown

Kaplan, LA
Where I'm From
I was born in Kaplan and I have always wanted to teach.
Where I Am
I'm a music education major with a bunch of extracurriculars and teaching experiences under my belt.
Where I'm Going
I'm going to teach children and eventually go to grad school for music history or theory.
Katy Meaux is using her inherent teaching skills and passion for music to pursue a degree in music education.
"My mom is a teacher. She would bring out all of her math toys, and me and my sister thought it was the coolest thing," she said.  "Once I got to high school, I always felt like I saw things differently, especially in science and math, and I could explain it to my peers differently. I always kind of knew I wanted to be a teacher."
Her passion for music became clear during her freshman year of high school when she joined choir, where she learned that singing was a natural talent of hers.
"I'm blessed with that gift. I started making district and state honor choirs, and at the national level, and decided maybe this is something I can make a living off of."
Learning from Experiences
To pursue her passion, she enrolled at UL Lafayette. As she continued through the music education program, her classes let her explore more of what she wanted to do.
"Freshman year is very general education. For music majors, you're taking music theory and piano, and in education you're taking classes like, what is teaching, what are the responsibilities," she said. "Once you get higher into sophomore, junior and senior year, you get more of the honing in on diversity and classroom management – the very specific things you need to run a classroom well."
Taking these classes taught her these essential teaching skills as well as a variety of others, including time management, leadership skills, people skills, and even how to play the piano – a skill she didn't possess before coming to college.
'I want to have all the knowledge I can'
She gained many of those essential skills through Sigma Alpha Iota, a music fraternity for women.
Katy is the vice president of membership and the music chair – an important position in a fraternity based around music. Her position in the fraternity has also allowed her to apply her gift for teaching.
"In our meetings, we have songs we have to sing, so I get to teach those," she said. "In our songbook, we have songs from different Sigma Alpha Iota members. This semester we're going to sing at a nursing home and then we're organizing an American Composers Concert celebrating pieces by American composers."
Along with her leadership roles within her fraternity, Katy is a student worker in the Office of Student Financial Aid as well as the recipient of three different scholarships. Aside from helping her pay for school, they also help her feel rewarded and motivated.
"Having scholarships makes me feel appreciated, which is really nice," she said. "It's nice to go to all the banquets because it's like, hey, I'm doing something and the University sees that. I work for myself, I want to be a good student, I want to have all the knowledge I can, but it's also nice to know that I'm doing well enough to get a scholarship for it."
Music & Education
Another motivation for Katy is the perk of getting to earn her degree within the University's School of Music and Performing Arts.
"Being a music major, you have a very tight-knit feeling. There aren't as many music majors. We all have classes in Angelle (Hall), we all have a lot of the same things to do: practice, ensembles, and you stay together all day," she said.
"It really does feel like it's your second home. At any given point, you have friends there, practicing at 2 a.m. and just hanging out."
Katy uses her music and education classes to help her understand music theory and teach younger students at the Music Academy of Acadiana.
"I love teaching young students. Teaching the young ones is so much fun because everything is so new and their amazement with the littlest things is fantastic," she said.
"When I was taking my method classes, I was able to go and try it out immediately on a one-on-one basis. My kids will tell me if something doesn't make sense. It's a great way to trial and error things and figure out who I am in the classroom in a smaller setting before you're in a classroom of 20-something 7-year olds."
Naturally, student teaching has gone well for Meaux, as she has already begun to find her voice as a teacher.
"I'm very happy that I get full-year student-teaching experience — you get to know the students better, and now they know me, they trust me. They understand that I'm also learning, and they want to help me run the class as best I can."
"Student teaching is going much better than I expected. I was much more comfortable with elementary – I teach younger students already – but high school is going well. I'm learning a lot. I already feel like I'm more comfortable in the classroom. I didn't want to lose my personality in teaching, I wanted to be myself in the classroom, and I've learned how to navigate that and find my teaching style."