Meet moving image arts major Reagan Schwab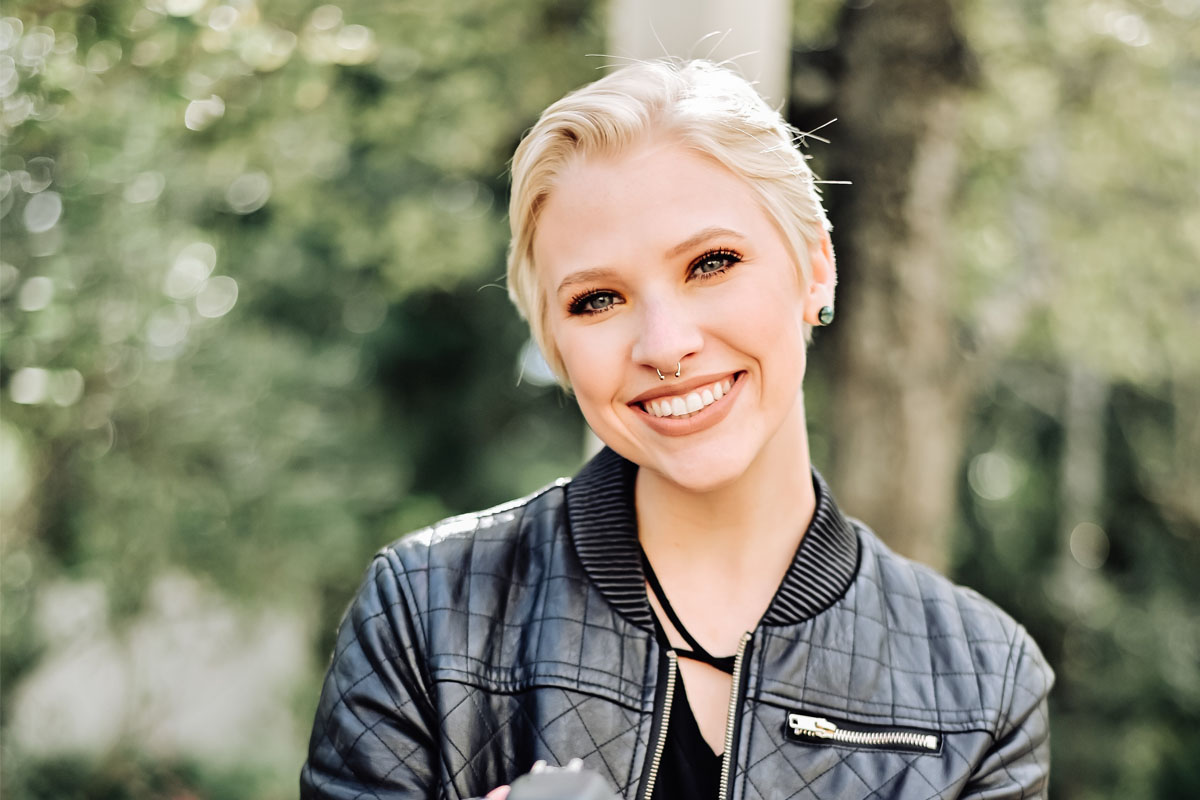 "Becoming comfortable with the balance between studying film design and actually creating film content myself was super important to me – and I was confident that I would find that within the Moving Image Arts program."
Reagan Schwab
Major

Moving Image Arts

Hometown

Monroe, La.
Where I Am
I'm finishing my senior year in moving image arts at UL Lafayette.
Where I'm Going
I am going to use the skills and knowledge I've obtained to pursue a career in cinema post-production. 
Reagan Schwab wanted to find a university with a good film program that was cost-effective. Although she had other universities in mind, she immediately felt at home when she visited UL Lafayette.
"I admired the fact that UL Lafayette had more intimate student-teacher ratios – I liked the idea of my professors knowing my name and my face as opposed to simply being another student number as I would've been at a larger university," she said.
Reagan knew exactly what career path she wanted to pursue when she entered her freshman year.
"I wanted to produce media and video content while entertaining others and expressing my creative freedom," she said. "I instantly felt comfortable and informed when speaking to the Moving Image Arts department heads and the available course curriculum really piqued my interest. Becoming comfortable with the balance between studying film design and actually creating film content myself was super important to me – and I was confident that I would find that within the Moving Image Arts program."
Learning by Doing

Within the moving image arts program, Reagan loves the diverse range of classes available.
"No matter what part of filmmaking someone is looking to enter outside of college, there are classes available for them to take, whether it's Pre-Production, Production, or Post-Production," she said.
Reagan has also enjoyed the fact that the department is small, allowing for more personalized interactions with fellow students and faculty.
"Within the MIA program, I have gained helpful experience in the film industry such as working with Adobe systems as well as knowledge in all fields of filmmaking," Reagan said. "I have adapted skills ranging from producing and scriptwriting to editing and finalizing."
Some of Reagan's favorite classes were with instructor and professional filmmaker Geoffery Marschall.
Since Reagan's desired career path is post-production, one of the classes that stuck out was Digital Video Editing I (MIA 350).
"I had editing experience prior to taking the class, but I was able to learn a lot more in-depth techniques and tips within the class that truly helped me as a filmmaker," she said. "This class allowed me to become more educated on Adobe Premiere, which is the industry standard – a super helpful talent that I am now able to put on my resume.
"Not only did we study editing styles and techniques, but we also had the chance to engage in hands-on editing while also being critiqued on our editing styles."
Reagan enjoyed the creative freedom allowed in the class projects as well as the feedback she received from professor Marschall.
"Through his critiques, he wouldn't simply shut down and dismiss your idea – he would give honest and helpful feedback and explain why that particular editing style didn't work while suggesting other ideas that maybe would work better," Reagan said.
Another one of professor Marschall's classes Reagan enjoyed was Digital Video Production II (MIA 356).
"This class has allowed me to gain hands-on experience with critical aspects of filmmaking such as cinematography, lighting, sound design, and scriptwriting," she said. "This has been the first class in which I have actually gotten to work with cameras, which is exciting to me, (as) an aspiring cinematographer."
Throughout the semester, students wrote, produced, and planned their student-made films.
"This class has given me crucial experience that will benefit me once I enter the film industry and I'm so thankful for that," Reagan said.

Gaining Experience Outside the Classroom

Reagan has been involved in many organizations at UL Lafayette including the Peer Mentor Program, SOUL Camp Staff, a Panhellenic Sorority, Gamma Chi, and UL Social Media Team.
"Throughout these organizations and mentorship positions, I have gained the skills to be a confident leader," she said. "My public speaking skills have improved as well as my need for organization and time management. Not only have I grown as an independent person, but I have also established multiple connections with both students and faculty."
Reagan finds it difficult to pinpoint her favorite thing about attending UL Lafayette.
"I love the opportunities for growth here at UL Lafayette, both in the classrooms and outside the classrooms," she said. "I love the rich, bold culture that comes along with the University and Lafayette as a whole. I couldn't imagine myself at any other university."