Meet James Downing, petroleum engineering major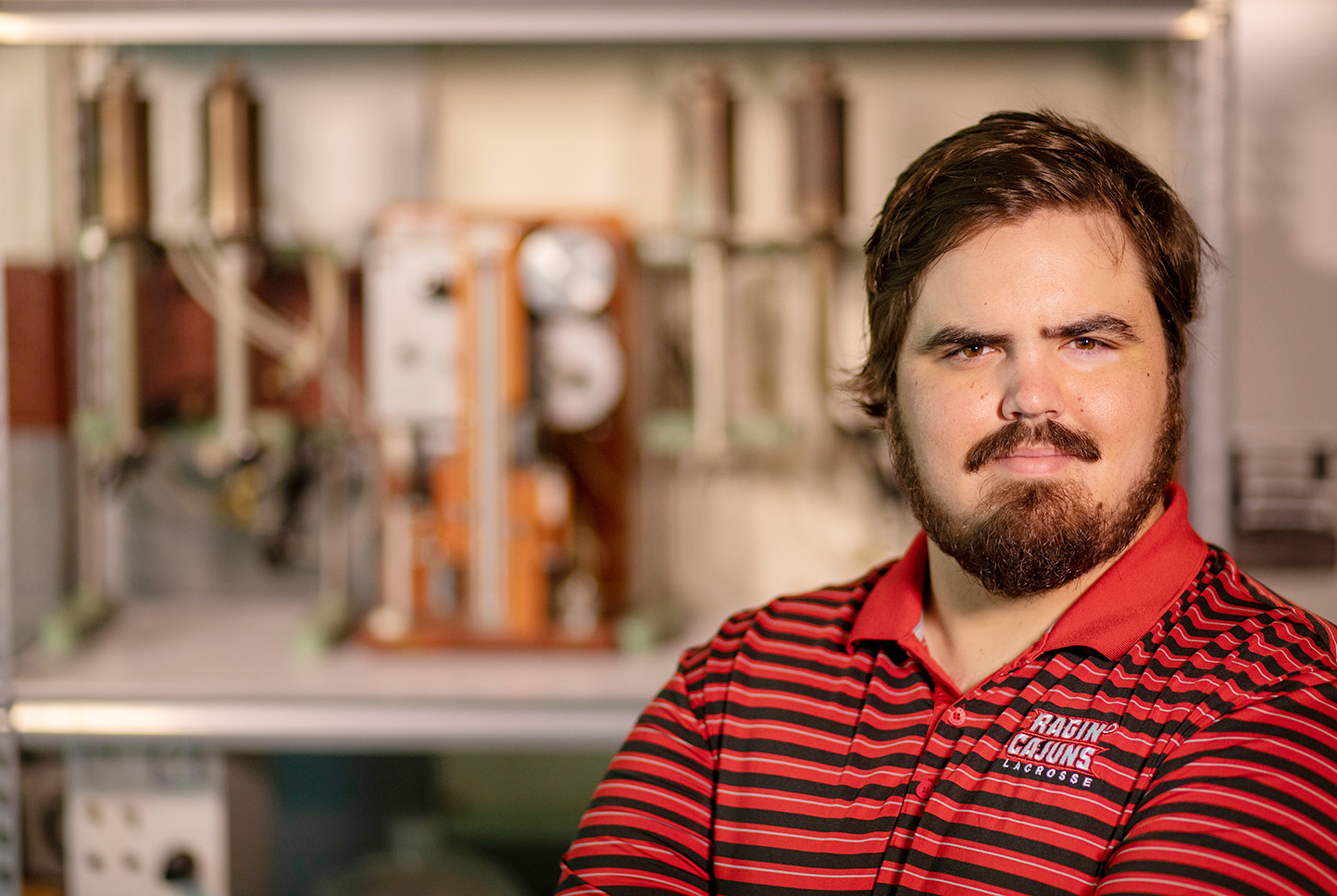 "The Department of Petroleum Engineering provides students with certifications that are needed to begin immediately working in the industry, exposing students to a variety of software applications that are used industry-wide, hands-on laboratories, and regular tours to rigs and other oil and gas-related facilities. I'm leaving the program with the skills and knowledge I need to have a successful career in oil and gas."
James Downing
Major

Petroleum Engineering

Hometown

Orlando, Fla.
Where I'm From
I'm from Orlando, Fla., and first looked at UL Lafayette because of its' well-known petroleum engineering program.
Where I Am
I'm using my experiences at UL Lafayette to get hands-on experience as well as important soft skills like communication, time management, and leadership.
Where I'm Going
I hope to get my hands dirty, travel the world, and solve complex problems.
James Downing never saw himself as someone who would sit behind a desk all day.
"I first looked at UL Lafayette because of its' well-known petroleum engineering program," said Downing. "When I visited campus, I was able to speak directly with faculty members, other students, and administrators. I really felt like I was more than just a number to the University, and that made the decision an easy one.
"Coming from Florida, I didn't know anybody when I arrived in Lafayette. Everybody has always been very friendly, and willing to lend a helping hand. The community within the school, and the surrounding area, is unmatched. The food in the area is also the best in the world."
Downing chose to major in petroleum engineering because he wants to get his hands dirty, travel the world, and solve complex problems.
"The oil and gas industry provides an opportunity to do all those things," he said. "This major also has allowed me to learn a lot about an industry that is largely misunderstood."
When thinking back on his time at UL Lafayette, Downing remembers an introduction class with Dr. Boukadi that introduced him to oil and gas. After that, he said, "I was hooked, eager to learn as much as I could."
During his sophomore year, he was able to dig deeper into the major and was able to apply his knowledge almost immediately.
"I didn't know it at the time, but most things I learned during the Drilling Fluids course (PETE 211) and lab would be very applicable to the internship I had that summer," he said. "The theory we learned in class was very useful in diagnosing fluid problems we experienced during drilling, and the hands-on laboratory work allowed me to use the equipment and perform field tests with little guidance from my supervisors."
That hands-on work extended through his final year in the petroleum engineering program, when he took his Senior Design courses.
"These courses allowed students to work in teams and solve complex real-world problems with little guidance," he said. "It provided a great opportunity to showcase the knowledge and skills my team and I had learned during our tenure at UL Lafayette."
James has also been very active beyond the classroom, noting that "the college experience is what you make it."
"UL Lafayette offers the chance to make it however you'd like, but it's up to you to take full advantage of all the opportunities provided."
And James made sure to take advantage of the opportunities he found on campus. He played for the Ragin' Cajuns Men's Lacrosse team, was the scholarship chairman for the Sigma Nu fraternity, and was president for the Society of Petroleum Engineers student chapter and the petroleum engineering honor society Pi Epsilon tau. He also joined the International Association of Drilling Contractors and the American Association of Drilling Engineers.
"In addition to all of the knowledge I gained from my actual classes, my experiences here have largely helped me refine some of my 'soft skills,' which are of great importance as I get ready to enter the job market," he said. "My extracurricular activities have helped me with my communication, time management, and leadership skills, among others."
James looks forward to what the future holds.
"The Department of Petroleum Engineering strives to provide the finest drilling education in the country," he said. "It provides students with certifications that are needed to begin immediately working in the industry, exposing students to a variety of software applications that are used industry-wide, hands-on laboratories, and regular tours to rigs and other oil and gas-related facilities.
"I'm leaving the program with the skills and knowledge I need to have a successful career in oil and gas."