Meet Human Development & Family Science Major Tess Blanchard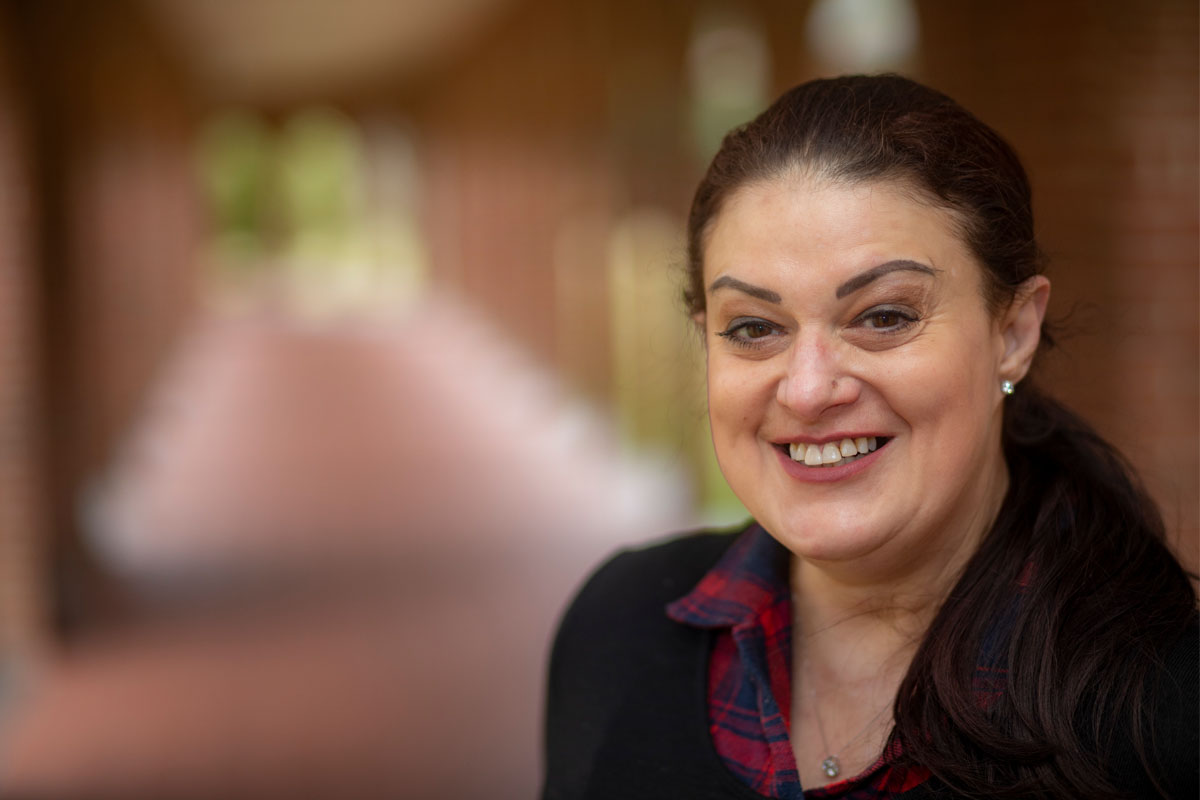 "At a low point in my life years ago, I was given a second chance at life. I am majoring in Human Development & Family Science because I needed to give back and help to educate and advocate for those families that are struggling or are in crisis."
Tess Blanchard
Major

Human Development & Family Science

Hometown

Lafayette
Where I'm From
I'm a mom from Lafayette.
Where I Am
I'm an undergraduate research assistant for the Human Development & Family Science program.
Where I'm Going
I'm going to attend graduate school in the field of social work.
Tess Blanchard began her college career at 45 after being inspired by her children. 
"It was not until my children were succeeding in their college years that I began to believe in myself enough to attempt furthering my education," she said. 
Although she didn't decide to start her college journey until later in life, the decision to attend UL Lafayette happened quickly.  
"I was fortunate enough to be born in a city that happens to have a top-rate university with a beautiful campus in the center of it, so the choice was clear as to where to attend," she said.
"Once I began my education at UL Lafayette, I quickly found the Department of Sociology, Anthropology, and Human Development & Family Science to be the best fit. My peers and I have similar beliefs, goals, and we want to be of the most help to our communities once we finish school."
Education Made Personal
Tess's decision to pursue a degree in Human Development & Family Science was very personal for her. 
"At a low point in my life years ago, I was given a second chance at life," Tess recalled. "I am majoring in human development and family science because I needed to give back and help to educate and advocate for those families that are struggling or are in crisis."
After enduring a failed marriage, Tess became an alcoholic while grappling with her sexuality. 
"I knew that I was gay for years and married men anyway to try to be normal," she recalled. "In November 2007, I took my last drink and got help.
"I should be dead right now, much less pursuing a graduate degree. I wish I hadn't wasted so many years trying to be what I thought everyone else wanted me to be or what I thought was safe to be instead of being who I really am today."
Since enrolling at UL Lafayette, Tess has been involved in the Honors Program as well as the National Society of Leadership and Success and The Society for Collegiate Leadership and Achievement. These programs, and her courses, have taught her communication, critical thinking, leadership, and time management skills, which will help her in her future careers.  
Major Courses
Tess has been particularly impacted by two professors.
Dr. Sean Jefferson taught her Introduction to Child and Family Studies (CAFS 101) course and offered guidance and assurance as she transferred to UL Lafayette from South Louisiana Community College (SLCC).
Dr. Anne Branscum taught another one of Tess's favorite classes, Family Resource Management (CAFS 350). Dr. Branscum is also helping Tess prepare for graduate school and offering guidance.     
Tess is also working closely with Dr. Branscum as an undergraduate research assistant for the Human Development & Family Science program. 
"She is co-authoring a new textbook with Dr. Janice Weber, a former professor at UL Lafayette," Tess explained. "I'm helping them with some editing, sources, and making PowerPoint slides for the chapters that will be taught." 
This accessibility to professors, advisors, and faculty is Tess's favorite aspect of the Human Development & Family Science program, as well as one of her favorite things about the University as a whole. She also enjoys the beautiful campus, and the diverse organizations available to students.  
"UL Lafayette is a place where people of all ages and backgrounds can feel welcomed and encouraged to continue one's education and make dreams come true," Tess said.