Graduation rate has increased significantly over last decade
Published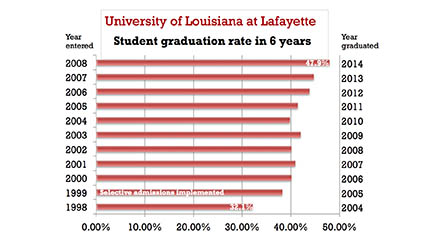 More students are earning diplomas from the University of Louisiana at Lafayette.
The University's graduation rate, which is measured by the percentage of undergraduates who earn degrees within six years, has risen by more than 49 percent over the last decade, according to Dr. DeWayne Bowie, vice president for enrollment management.
The most recent figure, 47.9 percent, represents students who graduated in 2014, compared to 32.1 percent who graduated in 2004. The current graduation rate is third-highest in the state among public universities.

The graduation rate for student-athletes at the University, at 75 percent, is the best in both the state of Louisiana and the Sun Belt Conference, according to Federal Graduation Rates statistics released by the NCAA.
"Total enrollment is at a record high of almost 18,800 students this semester, but what's significant is that more of our students are experiencing success than ever before," said Bowie, who added the goal is to attain a 50 percent graduation rate in the next several years.
Overall, tougher admissions standards, an increased scholarship budget, and efforts to reduce class sizes, to limit the number of courses that may be dropped, and to monitor student performance have contributed to higher rates, Bowie said.
Retention rates between students' first and second years also have increased. The most recent figure for full-time, degree-seeking freshmen continuing to their second year is 76.3 percent for Fall 2014, a 2 percent increase over the previous year.