Eugenia Amarachi Ndieze is the University of Louisiana at Lafayette's Outstanding Graduate.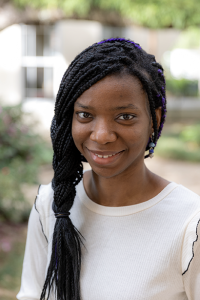 Ndieze is among eight award finalists who will be recognized Friday and Saturday during Fall 2022 Commencement ceremonies. Individual ceremonies for UL Lafayette's eight academic colleges will be held at the Cajundome and the Cajundome Convention Center.
Each spring and fall semester, deans from the University's academic colleges nominate a student as Outstanding Graduate. Nominations are based on leadership, scholarship and service. An Alumni Association committee interviews candidates and selects one to receive the overall award.
In addition to being the fall semester's overall honoree, Ndieze is an Outstanding Graduate Finalist for the College of Engineering. A chemical engineering major, her GPA is 3.94.
Ndieze researched the conversion of biochemical waste into viable resources for use in human habitation on Mars. She belonged to the Ragin' Cajun Sustainability Leaders, which provides waste reduction, recycling and zero-waste awareness.
Ndieze belongs to Tau Beta Pi, the Order of the Engineer, the Society of Women Engineers, Omega Chi Epsilon, the American Institute of Chemical Engineers and the Association of Official Analytical Chemists.
She placed first in the Chemical Engineering Senior Design Project and earned the Fluor Corporation Alumni Research Innovation Award. Ndieze led the Department of Chemical Engineering's quiz bowl team that won an Engineering and Technology Week competition.
She will work as a process engineer. Ndieze is the daughter of Scholastica Ngozi Ndieze.
Here's a look at the remaining Fall 2022 Outstanding Graduates.
Kristina Abraham is the Outstanding Graduate Finalist for the B.I. Moody III College of Business Administration. She is a finance major with a 3.75 GPA.

Abraham served as treasurer of the campus chapter of the National Society of Leadership and Success and was inducted into the Sigma Alpha Lambda and Alpha Lambda Delta honor societies.
Her roles with Sigma Sigma Sigma Sorority include treasurer, social chair, merchandise chair, and membership on the Sisterhood Committee. Abraham was a peer mentor for the Office of First-Year Experience, and belonged to the economics and tennis clubs.
Her community service activities include work for The Big Event, Dreams Foundation of Acadiana, Carencro Animal Shelter and Habitat for Humanity.
She plans to pursue an MBA while working as a marketing specialist. She is the daughter of Lynette Abraham and Edward Abraham of Ruckersville, Virginia.
Shardae Chancy is an Outstanding Graduate Finalist for the College of Nursing & Health Sciences. She is a nursing major with a 3.13 GPA.
Chancy is a scholar for the National Society of Leadership and Success and Black Faculty and Staff Association. She was on the Dean's Advisory Council and served as a Student Government Association senator.  
Chancy was the National Pan-Hellenic Council's director of events and the Collegiate Outreach Mentorship Program's academic coordinator. She was an Office of First-Year Experience peer mentor and a Residence Hall Association student mentor. Her roles with Delta Sigma Theta Sorority include treasurer and physical and mental health committee chair.
Chancy will work as a registered nurse, and envisions earning a master's degree to become a family nurse practitioner. Her parents are Lashonda Madden of New Llano, La. and Jeffery Chancy of Leesville.
Vanna Do is an Outstanding Graduate Finalist for the College of Liberal Arts. She is a speech pathology and audiology major. Her GPA is 4.0.
Do coordinated public relations and social media for Sisters in Speech Therapy and Audiology and belongs to the National Student Speech Language Hearing Association. She volunteered for the Language and Literacy Project at UL Lafayette's Speech, Language and Hearing Center.
Do, whose minor is creative writing, has published poetry in UL Lafayette's Southwestern Review in-house literary journal and the University of Houston's Glass Mountain literary magazine. She twice placed second in the Molett Essay Contest at UL Lafayette.
Do belongs to the Vietnamese Student Organization and was on the Division of Global Engagement's communications team.
She plans to earn a Doctor of Audiology degree. Her parents are Van Nguyen and Henry Do of Houma.
Logan J. Hudson is an Outstanding Graduate Finalist for the College of the Arts. He is a performing arts major with a concentration in theater. His GPA is 3.70.
Hudson was president of the Alpha Psi Omega National Theatre Honor Society and a peer mentor for the University's Office of First-Year Experience's UNIV 100 course.
His community service activities include work for the Special Olympics, Faith House of Acadiana, Parish Proud, Acadiana Center for the Arts, Cité des Arts and Acadiana Animal Aid.
He will participate in the Disney College Program at the Walt Disney World Resort in Orlando, Florida. Hudson plans to pursue an acting career in theater and film in New York. Other aspirations include attending graduate school.
He is the son of Dan Hudson and Vanessa Hudson of Abbeville.
Blake McMinn is an Outstanding Graduate Finalist for the College of Education & Human Development. He is a kinesiology major. McMinn has a 3.8 GPA.
He was an organic chemistry research assistant, president of the Kinesiology Professional Association and an executive officer for the Pre-Professional Society. McMinn founded and was president of the Kinesiology Mentor Program. Upper-level students guide and support first-year students as part of the program.
He participated in PULSE, a national physician-student mentorship program. McMinn was a member of the National Society of Leadership and Success. He has volunteered for the UL LIFE Program, NSI Hospice, Second Harvest Food Bank and St. Joseph Diner.
McMinn plans to attend medical school. His parents are Beverly McMinn of Lafayette and Kenny and Dona McMinn of Richmond, Texas.
Ruby Shrestha is an Outstanding Graduate Finalist for the Ray P. Authement College of Sciences. A computer science major, she has a 4.0 GPA.
Shrestha was president of the Nepalese Student Association and vice president of the Association of Computing Machinery. She belongs to the Society of Asian Scientists and Engineers, Students for the Advancement of Women, the International Student Council and the Nepali Women in Computing.
Shrestha has volunteered for the University's Science Day and provided tutoring for an Office of Disability Services program. She also participated in The World at UL Lafayette Exhibit. The event was a joint effort of the University's Office of International Affairs, the U.S. Department of State and the U.S. Department of Education.
Shrestha completed internships at CGI and at Ochsner Health. Her parents are Ratna Krishna Shrestha and Krishna Kumari Shrestha of Nepal.
Brandie B. Stelly is an Outstanding Graduate Finalist for University College. She is a general studies major with a concentration in behavioral sciences. Her GPA is 3.95.
She holds a certificate in paralegal studies from the University, and an associate degree in general studies from South Louisiana Community College.
Stelly is a founding member for VOICES of Acadiana. The mission of the organization is to advocate for victims of domestic violence. She contributed to an article titled "Fragmented and Unequal: A justice system that fails survivors of intimate partner violence in Louisiana, USA" that was published in 2019 as part of Amnesty International's annual report.
Stelly earned her degree online at UL Lafayette, while working full time at a law firm. She plans to pursue a master's degree. Her husband is Chet D. Stelly, and she is the mother of Kennedy, Cooper and Parker Richard.
Learn more about Fall 2022 Commencement.
Photo caption: The University of Louisiana at Lafayette's Fall 2022 Outstanding Graduates are, from left: Logan J. Hudson, College of the Arts; Vanna Do, College of Liberal Arts; Ruby Shrestha, Ray P. Authement College of Sciences; Kristina Abraham, B.I. Moody III College of Business Administration; Brandie B. Stelly, University College; Blake McMinn, College of Education & Human Development; and Shardae Chancy, College of Nursing & Health Sciences. Not pictured is Overall Outstanding Graduate Eugenia Amarachi Ndieze, College of Engineering. (Photo credit: Rachel Rafati / University of Louisiana at Lafayette)