Campus recognized by League of American Bicyclists
Published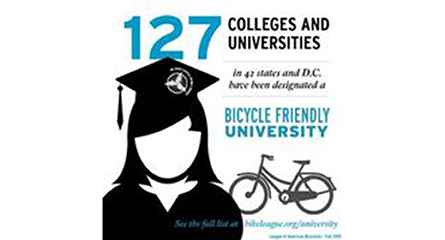 The University of Louisiana at Lafayette has been designated as a bike friendly campus by the League of American Bicyclists.
The league is a nonprofit organization that advocates bicycling and safety for cyclists.
UL Lafayette earned a bronze award as part of its Bicycle Friendly University program.
The league recognized 127 colleges and universities nationwide that "support bicycling in new and innovative ways," stated Amelia Neptune, program manager, in a press release.
The University installed new bike lanes last year, between Taft and St. Landry streets, to increase cyclist safety, and manage traffic flow. The project was a joint effort between UL Lafayette and Lafayette Consolidated Government.
"The bike lanes on St. Mary are just one of several examples of campus bike-friendly initiatives that have been made as part of the University's Master Plan," explained Gretchen Vanicor, UL Lafayette's director of Sustainability. The Master Plan will guide campus development and growth for the next 15-20 years.
The University recently added more bike racks, shelters and lockers, bringing the total number of bicycle parking spaces on campus to 2,771.
Two covered bicycle shelters, which accommodate 20 bikes each, were installed. One is at the entrance to the intramural fields on Coliseum Road. Another is on Rex Street.
Seven uncovered bicycle areas, with metal racks, were installed.
The University installed 10 bicycle lockers at the Oliver Tower parking garage and 10 others at the Taft Street parking garage. Each locker holds one bike.
It also has adopted several bike-friendly measures, such as hosting free bike maintenance workshops, and allowing students who live in residence halls to take their bicycles inside their rooms for safekeeping, Vanicor said.
Learn more about the League of American Bicyclists at www.bikeleague.org/BFA