Brazilian interns help to develop inspection system
Published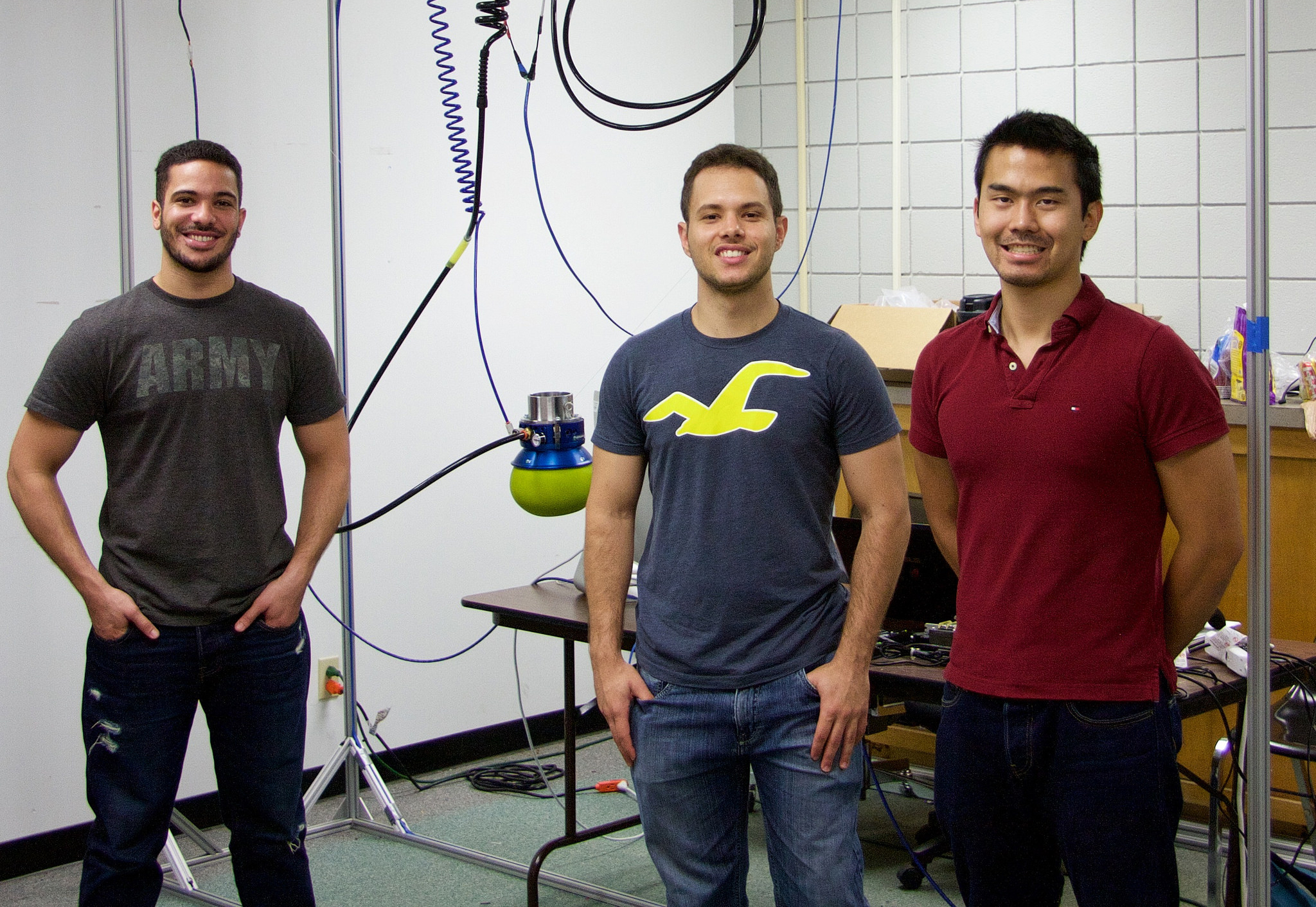 Three Brazilian interns in the University of Louisiana at Lafayette's Mechanical Engineering Department helped develop a promising way to inspect large structures, such as bridges, ship hulls and storage tanks, this summer.
They have returned to South America but the project, which uses cable-suspended robots for inspections, continues to move ahead. The University's Mechanical Engineering Department and HiBot Corporation of Tokyo, Japan, a worldwide leader in the use of robotics for inspection and rescue, have partnered to pursue it with support from the Louisiana Board of Regents Industrial Ties Research Program.
Paulo Vito Ferreira Correa, Mauricio Yuji Murakami, and Leopoldo Augusto Silva Rezende traveled to UL Lafayette as part of the Brazil Scientific Mobility Program. The one-year study abroad program enables students in science, technology, engineering and mathematics fields to study in the United States. Prior to coming to UL Lafayette, the students conducted research at Purdue University.
While at UL Lafayette, the trio devised an inspection system for big structures that resembles a SkyCam, which uses a computer-controlled camera suspended on cables to cover sporting events. The system would make inspections, now conducted by people, safer and less labor-intensive.
Dr. Joshua Vaughan, an assistant professor of mechanical engineering at UL Lafayette, is leading the efforts to develop the system.
"Expanding the use of robotics can not only save significant money and time, but also improve the fidelity of the results, while reducing the burden on human workers. The primary objective is to advance robotic inspections through developing design and control techniques for cable-suspended-and-driven robotic systems," Vaughan said.

Vaughan praised the three interns' work.
"They set up an experimental platform in my laboratory and did the initial control design for a scaled-down version of the system. They did a good job," he said.

Work on the project progresses in increments.
"We keep improving and adding complexity throughout the life of the project," Vaughan said.
Vaughan is the recipient of the 2015 Young Researcher of the Year Award from the University's College of Engineering and the 2014 Rising Star Award from the University's Office of Research.
Photo: Shown, from left, are interns Paulo Vito Ferreira Correa, Leopoldo Augusto Silva Rezende, and Mauricio Yuji Murakami with a cable-driven system they helped develop for use in robotic safety inspections.