Bike lanes opened along St. Mary Boulevard
Published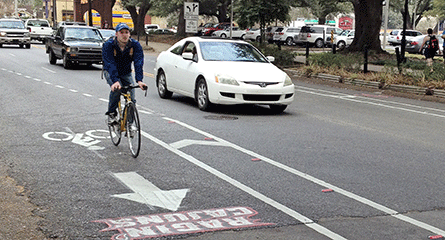 Cyclists are traveling along the new bike lanes on campus that have been installed on St. Mary Boulevard.
The new bike lanes occupy the outer two lanes of the boulevard, in each direction, between Taft and St. Landry streets. Motorists continue to use the two inside lanes. One exception is near the Johnston Street intersection, where the lanes for bicyclists and motorists merge together as the roadway narrows.
The bike lanes are in place to increase cyclist safety, and manage traffic flow, said Joey Pons, UL Lafayette's associate director of Public Safety and risk manager.
Motorists and bicyclists are required to adhere to all traffic laws and "rules of the road," he added.
"Two important considerations are that bicyclists must ride in the same direction as traffic, and both motorists and cyclists are prohibited from crossing the solid white lines," Pons said.
Other important considerations:
Bicyclists, like motorists, are required to stop at all traffic lights.
Motorists are required to yield to bicyclists, including in turning lanes.
Motorists and cyclists are prohibited from splitting lanes or passing each other at intersections.
Bicycles and vehicles turning right at the intersections of Rex Street, Hebrard Boulevard, Girard Park Circle and McKinley Street share a combined turn lane.
Cyclists have two options when making left turns. One is to merge into the vehicle traffic lane ahead of an intersection, then turn. The other is to use crosswalks. Cyclists who use the second option must dismount and walk their bicycles across the intersection.
Pons said both bicyclists and motorists should be aware of differences in the layout of the bike lanes along two distinct sections of St. Mary Boulevard.
One section, between Taft and Johnston streets, features a 3-foot buffer zone that separates vehicle and bicycle traffic.
The other section, between Johnston and St. Landry streets, does not have a buffer zone, due to the width of the roadway.
Pedestrians should remain vigilant to the presence of both cyclists and motorists along St. Mary, and use designated crossing areas when walking across the roadway.

"We encourage our student pedestrians to use the crosswalks on campus, and not to 'jaywalk,'" he said. "Likewise, we want to encourage motorists traveling on campus to be mindful of students, both walking and on bicycles."
The bike lanes are among bicycle and pedestrian improvements included in the University's Master Plan. In  2012, students voted to approve a self-assessed student fee to support implementation of the master plan.
The project is a joint effort between UL Lafayette and Lafayette Consolidated Government. The University provided $70,000; LCG designed and installed the bike lanes. 
For more information about traffic laws, rules and safety tips, visit bike.louisiana.edu