Available now: Latest La Louisiane features research, sports and more
Published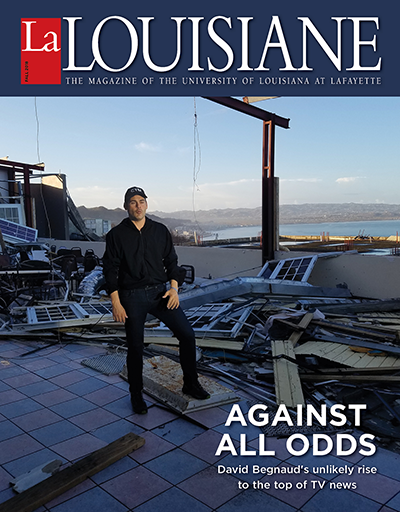 Have you seen the latest La Louisiane?
The Fall 2018 issue of the magazine of the University of Louisiana at Lafayette came out this week. It's packed with stories that showcase what's great about the University.
The cover story, "Against All Odds," features alum David Begnaud and chronicles the personal obstacles he had to overcome in his improbable rise to the top of television news.
The issue also features the University's new Louisiana Watershed Flood Center, which is poised to become an anchor in state and regional efforts to reduce the risk and severity of flooding.
For sports fans, La Louisiane recounts the glory days of the University's national championship weightlifting team, now the subject of an ongoing documentary project.
Other stories include:
a look at new apartment-style student housing that'll open in time for the Fall 2019 semester;
a feature on the University's new solar research and testing laboratory that aims to be a player in the state's burgeoning renewable energies landscape; 
tales of two students who reigned over two of the state's largest Mardi Gras celebrations; and
a profile of alum James Bollich, who survived the Bataan Death March and three harrowing years in a World War II prisoner of war camp.
The staff of the University's Office of Communications and Marketing produces La Louisiane. The magazine covers many aspects of the University, including research, campus development, student life, athletics and alumni accomplishments.
La Louisiane reaches about 95,000 readers via direct mail and distribution on campus. It's also available digitally here.
Its readership includes students, alumni and other University supporters. Copies are also mailed to high school principals and guidance counselors across the state to support student recruitment.