$9.7 million grant fuels creation of oil and gas consortium at UL Lafayette
Published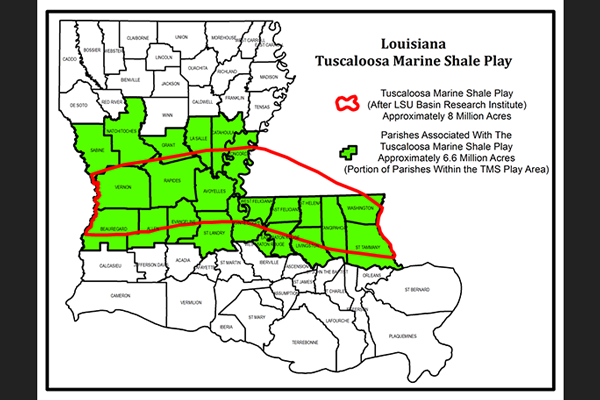 About 7 billion barrels of light, sweet crude oil is estimated to reside in the Tuscaloosa Marine Shale, a geological formation that covers 28 parishes in central and south Louisiana, and several southwestern Mississippi counties.
That's a lot of black gold – and a $9.7 million grant from the U.S. Department of Energy and several energy companies will enable researchers from the University of Louisiana at Lafayette and four other institutions to better understand how the significant energy reserve can be recovered.
The Tuscaloosa Marine Shale has confounded the oil and gas industry for decades. Its unstable clay formations don't respond well to traditional extraction methods, said Dr. Mehdi Mokhtari, an assistant professor in UL Lafayette's Department of Petroleum Engineering.
The grant will fund the creation of a UL Lafayette-based Tuscaloosa Marine Shale Laboratory to "address critical gaps in our understanding of the TMS to enable cost-efficient and environmentally sound recovery from this unconventional liquid-rich shale play," said Mokhtari, who'll direct the consortium.
It will include a team of researchers from the Los Alamos National Lab, New Mexico; Missouri University of Science and Technology, Rolla; the University of Oklahoma, Norman; and the University of Southern Mississippi, Hattiesburg.
The multidisciplinary group will include engineers, geophysicists, geologists and an economic development specialist, Mokhtari said.
"Our team will consider the engineering aspects of the TMS as well as the economic impact its development will have on the communities it touches."
The grant money also will fund research by 18 graduate students at UL Lafayette and its partner institutions.
The U.S. Department of Energy announced the grant recipients Jan. 3. UL Lafayette and five other universities and companies were awarded a total of $30 million in federal money. Each institution also received funding from outside sources.
Other grant recipients include: C-Crete Technologies, Stafford, Texas; Gas Technology Institute, Des Plaines, Illinois; Texas A&M University's Engineering Experiment Station, College Station; the Colorado School of Mines, Golden; and Virginia Tech University, Blacksburg.
The $9.7 million UL Lafayette received combines $3.68 million in federal funds and $5.98 million from industry sources.
The grants are part of an initiative by the Energy Department's Office of Fossil Energy to examine unconventional oil and gas reservoirs, such as the Tuscaloosa Marine Shale.
The oil and gas industry considers a play – the name it gives an area where oil and gas exist – as unconventional based on its geographic size and geological makeup.
An unconventional play might encompass thousands, even millions of acres. The Tuscaloosa Marine Shale is 8 million acres.
By contrast, conventional hydrocarbon reservoirs have more limited boundaries.
In addition, unlike conventional oil and gas reservoirs, unconventional resources are usually trapped within formations with poor permeability, such as shale. That means the liquid is suspended, and retrieving it requires nontraditional methods of extraction.
Planning to develop an unconventional play requires years of detailed geological studies and preliminary pilot projects. It can be akin to finding a needle in an expensive haystack.
That's why UL Lafayette's planned Tuscaloosa Marine Shale Laboratory is so important, Mokhtari said. The success of emerging plays in other parts of the United States has shown unconventional resources to be viable for the future of hydrocarbon production.
"The development of unconventional resources has grown significantly in the past 10 years in Texas, North Dakota and along the East Coast," Mokhtari said.
"It is now time for the Tuscaloosa Marine Shale in Louisiana and Mississippi. We expect interesting results to be generated by this consortium that will help meet the energy demands of the U.S. and increase its energy security."
Caption: Tuscaloosa Marine Shale is 8 million acres. It includes 28 parishes in central and south Louisiana, and several southwestern Mississippi counties. (Credit: Courtesy of the Louisiana Geological Survey via the Louisiana Department of Natural Resources)