KRVS general manager Cheryl Devall hits the ground running
Published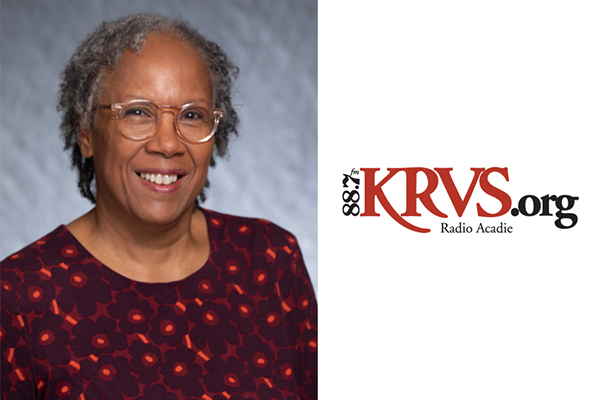 The addition of 75 people to KRVS 88.7 FM's membership during a recent 10-day donation drive is music to the ears of Cheryl Devall, who became KRVS' general manager in April.
The drive also brought in more than $43,000. That's important. Listener, corporate and business support, fundraising, underwriting, endowments and grants are essential to "help keep the lights on," Devall said of the six-employee station, which is small by NPR standards.
"Support we can count on in any given year helps maintain the station – keep equipment in working order, pay stipends to hosts who are not employees but are devoted to producing their programs, keep technology up to date. And members help spread the word about KRVS," she explained.
The 100,000-watt National Public Radio station, which is known as KRVS Radio Acadie, is located on the University of Louisiana at Lafayette campus. It is unlike any other station in the world.
KRVS features original programming that includes performances and interviews with Louisiana musicians. Another staple is live broadcasts of Festival International de Louisiane and Festivals Acadiens et Creoles, which happens this weekend.
"We carry this combination of music, much of it live-hosted, about 20 percent in French, and there's nobody else really doing that," Devall explained.
KRVS has broadcast from campus since 1963, when the Federal Communications Commission granted it an FM license as a student-run, 10-watt station. Its signal covered a radius of about six blocks.
Today, KRVS reaches a global audience. Its website and smart phone app offer free live streaming and archived podcasts that carry south Louisiana sounds to the world. It also offers jazz, classical, rock, roots, folk and reggae.
Thanks to its affiliation with NPR, the station airs international news and popular national programs such as Morning Edition, All Things Considered and Fresh Air. A slew of local music and talk shows is part of the mix, too. "Public radio can deliver something for just about anyone," Devall said.
Her viewpoint is informed by a four-decade career in journalism, the bulk of which has been in radio. Devall has edited two series that were nominated for Peabody Awards, which are widely considered radio's Pulitzer Prizes; she has shared four Alfred I. duPont-Columbia Awards, another of broadcast journalism's most prestigious honors.
Devall, who grew up in San Diego, brings that wealth of experience to a station she has long listened to and supported. With a father and grandparents from Louisiana, she also brings an affinity for the region that is rooted in her DNA.
"I believe very strongly in KRVS' identity as a music-driven station, and my hope for the station is that we maintain and preserve and amplify this culture that doesn't exist anywhere else," Devall said.
Learn more about KRVS.
Photo caption: Cheryl Devall, who became KRVS' general manager in April, has been busy boosting station membership. Her objective is to amplify the station's global reach. Credit: Submitted graphic