President Biden appoints researcher to Mississippi River Commission
Published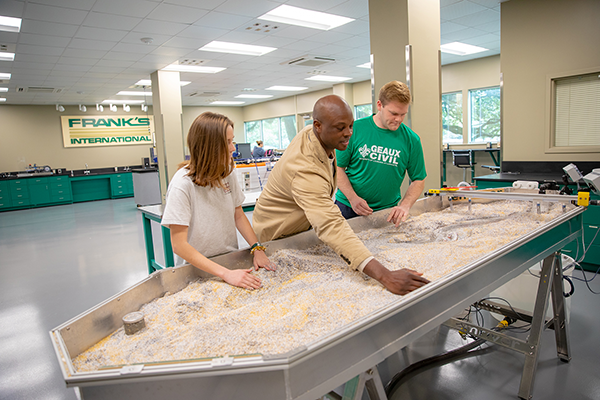 A University of Louisiana at Lafayette researcher is among seven people appointed by President Joseph Biden to serve on the Mississippi River Commission.
Dr. Robert Miller is an assistant professor in UL Lafayette's Department of Civil Engineering and assistant director of the University's Louisiana Watershed Flood Center. Miller, whose appointment was approved by the U.S. Senate, will serve a nine-year term.
Congress created the Mississippi River Commission in 1879. Its headquarters are in Vicksburg, Mississippi. The commission advises a range of federal agencies, providing recommendations in areas such as engineering, flood control, environmental projects, navigation and policy.
It's a job for which Miller is well-suited. His extensive research of river and coastal systems centers on areas such as sea level rise, saltwater intrusion, urban drainage, flood hazards and water quality. A key focus is developing methods to better quantify how engineering structures and natural biological systems – including rivers – impact each other.
Miller has worked in industry on coastal restoration and design, drainage and hydraulic impact studies, flood zone mapping and modeling, hydraulic design for energy exploration and production and watershed drainage master plans.
Flood risk, environmental management and water resources sustainability will be of primary concern to Miller during his tenure on the Mississippi River Commission.
"This appointment offers an enormous opportunity for me to use my expertise and experience as an engineer and an academic to inform and provide solutions for flood and environmental management on a large scale," he explained.
Commission members include U.S. Army Corps of Engineers officers, a National Oceanic and Atmospheric Administration representative and three others, including at least two civil engineers.
Their work is essential. The Mississippi River is one of the most important waterways in the world. The river stretches for about 2,340 miles, flowing from its headwaters in Minnesota to the Gulf of Mexico. It is the main artery of what comprises the second-largest watershed in the country.
The river's vast system of tributaries and distributaries fans out into 31 states and two Canadian provinces, providing drinking water and irrigation for crops. Shipping, fishing, tourism and other industries dependent on the river and its tributaries generate billions of dollars each year. The river is also a key route for international commerce.
"The Mississippi River System is of global economic significance; it's also crucial to Louisiana's vast coastal ecosystem. Effective and sustainable flood control is critical to ensure public safety and protection of communities," Miller said.
This isn't the first time the researcher's expertise has been called upon to inform such efforts.
In September of last year, Miller was among eight scientists chosen to study the Gulf of Mexico's changing ecosystem by the National Academies of Sciences, Engineering, and Medicine. As part of that initiative, he is examining infrastructure designed to control water for better flood mitigation; he is also researching water quality issues.
Miller also serves as a scientific advisor on the Technical Design and Quality Team in support of the Louisiana Watershed Initiative's statewide data and modeling program. As part of the initiative, local, state and federal agencies are collaborating to improve Louisiana's flood assessment and mitigation practices and policies.
Photo caption: UL Lafayette researcher Dr. Robert Miller is among seven people appointed by President Joseph Biden to the Mississippi River Commission. It advises federal agencies in areas such as engineering and flood control. He is an assistant professor of civil engineering and assistant director of the University's Louisiana Watershed Flood Center. (Photo credit: Rachel Rafati / University of Louisiana at Lafayette