Panhellenic Council earns national excellence award
Published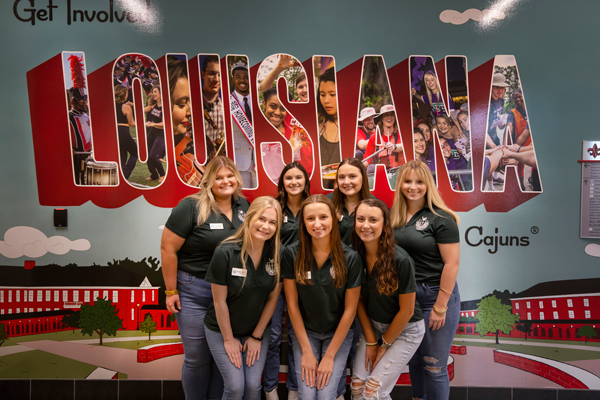 The Panhellenic Council at the University of Louisiana at Lafayette is among seven student-run sorority councils in the country to earn a College Panhellenic Excellence Award.
The Panhellenic Council at UL Lafayette represents the six National Panhellenic Council sororities on campus: Alpha Delta Pi, Alpha Omicron Pi, Delta Delta Delta, Kappa Delta, Phi Mu, and Sigma Sigma Sigma.
The National Panhellenic Conference is the largest advocacy and support organization for women's sororities, according to information from the conference. NPC sororities are located on nearly 670 college and university campuses.
Its excellence awards demonstrate "outstanding contributions" to Greek life from student-run panhellenic councils and associations. The awards reflect contributions in each of a range of categories – academic innovation, community impact, judicial procedure, leadership, marketing, programming and recruitment.
Members of the Panhellenic Council at UL Lafayette are Kailyn Kendrick, president; Emma Taylor, vice president - membership recruitment; Laura Barrios, vice president - education; Kylee Burgess, vice president - judiciary; AnnaGrace Johnson, vice president - programming; Brielle Verret; vice president - administration; and Amanda Lofaso, vice president - public relations.
The NPC's excellence awards were given as part of its overall 2021-2022 awards. The overall awards recognized panhellenic associations and councils at 36 universities for accomplishments in at least one of those categories.
"We're pleased to recognize these associations and their member chapters for excellence and innovation in Panhellenic operations during the previous academic year," Linda Henderson, 2020-22 College Panhellenics Committee chairperson, stated in a press release.
"The success of these College Panhellenics demonstrates there is a bright future ahead for their associations and the wider Panhellenic community," she added.
Learn more about the National Panhellenic Conference.
Photo caption: The Panhellenic Council at UL Lafayette is among seven councils in the country to earn a College Panhellenic Excellence Award. The awards are given by the National Panhellenic Conference. They recognize outstanding contributions from student-run Panhellenic associations and councils. Submitted photo