Two students selected for Reginald F. Lewis Scholars Program
Published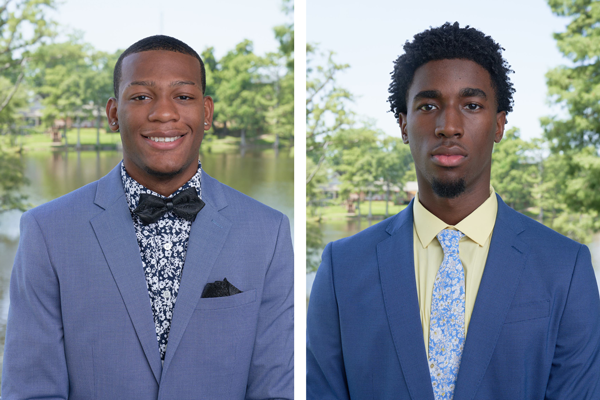 Frank Clavelle and Isaiah Crawford have been selected to represent the University of Louisiana at Lafayette as Reginald F. Lewis Scholars.
The University of Louisiana System program is in place to enhance the educational experiences of exemplary Black male students. The three-year initiative emphasizes academics, social advancement and community service.
Two rising sophomores from each of the University of Louisiana System's nine member institutions are chosen yearly to become Lewis Scholars. Participation is based on academic merit, financial need and leadership skills. A total of 36 scholars participate in the program.
Clavelle, an architectural studies major from Luling, La., and Crawford, a kinesiology major from New Orleans, are members of the program's second cohort. The cohort was officially introduced during the University of Louisiana System's recent Black Male Summit.
"These 18 young men join the first cohort ready to develop into better students, more engaged community members, and culturally aware citizens equipped for life and career success," said Dr. Jim Henderson, president of the UL System.
The Lewis Scholars Program is at no cost to student participants. Scholars receive a full tuition scholarship. In addition, cohorts engage in three key areas:
the community experience, which includes a partnership with the Universities of Louisiana Management & Leadership Institute and a service learning project;
the social experience, which includes an annual retreat, and academic and professional mentorship from business, community and university leaders; and
the academic experience, which includes research projects and a study abroad opportunity in their junior year.
During the summit, the UL System also recognized five employees from its institutions, including UL Lafayette's Ruben Henderson.
He received the James Caillier Servant Leader Award, which recognizes leaders for their success in helping others become leaders. Henderson is associate director of Undergraduate Admissions and Recruitment at UL Lafayette, and president of its Black Faculty and Staff Association.
Learn more about the University of Louisiana System's Black Male Summit. Learn more about the Lewis Scholars Program, and how you can support it.
Photo caption: UL Lafayette students Frank Clavelle and Isaiah Crawford have been chosen to join the University of Louisiana System's Reginald F. Lewis Scholars program. Photo credit: University of Louisiana System