UL Lafayette among U.S. News & World Report's Best Online Programs
Published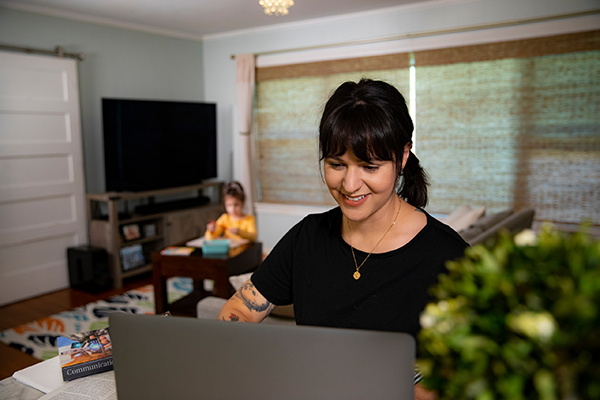 For the sixth consecutive year, the University of Louisiana at Lafayette is the state's top university for online bachelor's degree programs.
U.S. News & World Report announced its 2022 Best Online Programs rankings today with UL Lafayette at No. 74 for Best Online Bachelor's Program, No. 80 for Best Online Master's in Education, No. 26 for Best Online Master's in Nursing Program, and No. 132 for Best Online MBA Program.
For the first time, the University also ranked for Best Online Bachelor's Program – Business at No. 61 in the country. The B.I. Moody III College of Business Administration began offering the BSBA in Management online in 2019.
"Our goal in offering the bachelor's in business administration online was to create an accessible way for students to complete or earn an accredited, respected degree no matter where they are in their life, their career, or geographically," said Dr. Mark Smith, department head and professor for the Department of Management. "This recognition is just one indicator that we're achieving that goal in a meaningful way."
The college's graduate program, the MBA degree program online, also emerged in the rankings shortly after its introduction and has risen each year since. The MBA degree online complements the college's traditional professional and executive MBA programs with concentrations in entrepreneurship, finance, general business, global management, hospitality management, human resources, project management, and sales leadership, as well as the specialized MBA in Health Care Administration.
"One of our primary metrics of success as a college is our AACSB accreditation, which we have maintained since 1996," said Robert Viguerie Jr., JD, MBA director and associate dean of graduate and executive programs. "These rankings build on that success by demonstrating the value of our programs for professionals seeking to grow in their careers while remaining active in their current roles, with their families, and with professional and community organizations."
Both the University's Master of Science in Nursing and M.Ed. in Curriculum and Instruction programs remain the highest-ranked programs in the state among their peers.
The M.S. in Nursing program offers concentrations in Family Nurse Practitioner, Nursing Education, and Psychiatric Mental Health Nurse Practitioner, each comprising a combination of online coursework and precepted clinical hours.
Dr. Jennifer Lemoine, MSN graduate coordinator, says award-winning graduate faculty drive the success of all Department of Nursing graduate degree programs and their graduates.
"Within each focus, our faculty deliver a challenging curriculum that emphasizes evidence-based practice to deliver high-quality, cost-effective care, and increase access to patient care services, particularly in underserved areas," Lemoine said. "At the same time, these are working, professional nurses — heroes of the COVID-19 pandemic. We mentor them as they move through the program and their careers."
Similarly, Graduate Coordinator Dr. Natalie Keefer says College of Education faculty for the M.Ed. in Curriculum equip K-12 teachers to create equitable experiences for students and to lead and support their peers.
"Teachers come to this program with a desire to do meaningful work beyond their classrooms, and our graduate faculty position them well to take on those roles as instructional coaches or lead teachers," Keefer said. "Our master's students are also gaining new perspectives on their own instruction to make learning accessible to diverse student populations.
"For me, this recognition is an acknowledgment of the quality of our graduate education program as well as the work our graduates are performing in their classrooms and districts."
The University began offering online degree programs in 2010 and now offers five undergraduate, eight graduate, and four graduate certificate online programs. All programs are taught by UL Lafayette faculty and are offered with reduced flat-rate tuition.
Dr. Mary Farmer-Kaiser, dean of the Graduate School, said offering quality online degree and certificate programs is critical to meeting the needs of changing professions and changing students.
"Our graduate student population continues to evolve, as do their needs as working professionals who are juggling full lives," Farmer-Kaiser said. "These programs prepare students to face the vast changes and challenges across their disciplines and industries."
U.S. News & World Report bases its report on a survey, taking in factors such as student engagement, faculty credentials and training, student services, and technology and peer reputation.
For more information, contact Hope Aucoin, Marketing and Communications Manager, Office of Distance Learning, at hope.aucoin@louisiana.edu or 337-482-1253. Learn more about the University's accredited online degree and certificate programs at online.louisiana.edu.
Photo caption: For the sixth consecutive year, the University of Louisiana at Lafayette is the state's top university for online bachelor's degree programs, according to U.S. News & World Report's 2022 Best Online Programs rankings. (Photo credit: Rachel Rafati / University of Louisiana at Lafayette)