First Louisiana Educate Program grad sets sights on higher ed career
Published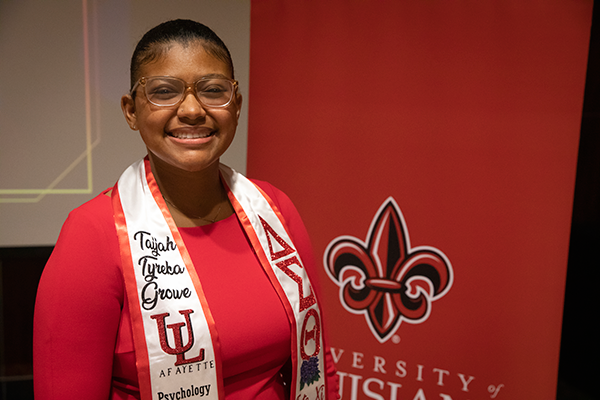 Taijah Growe, 21, enrolled at the University of Louisiana at Lafayette intent on pursing an education that would enable her to parlay an empathetic disposition into a career helping others.
"I've always been a good listener, and people have always talked to me about things that were bothering them. I find that rewarding," she said.
Growe, who is from New Orleans, will earn a bachelor's degree in psychology from UL Lafayette during the College of Liberal Arts' Commencement ceremony at 9 a.m. on Saturday at the Cajundome. Individual Fall 2021 Commencement ceremonies for the University's eight academic colleges and Graduate School will be held on Friday and Saturday at the Cajundome and the Cajundome Convention Center.
Growe, who minored in business, began considering a career as a mental health counselor in middle school. Private practice, however, is no longer the plan. During her time at UL Lafayette, Growe decided she will use her academic foundation in psychology at a college or university.
Following graduation, Growe intends to pursue a master's degree in education – with a concentration in higher education administration. She is considering graduate schools in several states.
"My long-term goal is to work with students, helping them get through college, grow as leaders, get involved, become well-rounded. That's important, because college is about more than simply school," Growe said.
It's a dynamic she experienced firsthand as part of the Louisiana Educate Program. The program is in place to help academically accomplished, lower-income students remain in college; it's funded with a blend of private gifts, institutional grants, and federal and state financial aid.
LEP is also designed to get students like Growe, who will become its first graduate on Saturday, heavily involved in campus activities and organizations. Students accepted into the program are required to have work-study jobs on campus, meet structured study hall requirements, live on campus, join student organizations, and complete internships.
Growe was accepted into the Louisiana Educate Program among an inaugural cohort of 43 students that enrolled in the University in Fall 2018. The program has since grown to 98 students. "It has enhanced my academic experience. Getting more involved definitely helped with my social skills and time management," she explained.
Growe's achievements illustrate the point.
She earned a 3.43 GPA while being heavily involved in campus organizations and activities. Growe served as a counselor for the Office of Orientation's Soul Camp, and was a peer mentor for Office of First-Year Experience's UNIV 100, which is in place to help high school students transition to campus life. She was a member of the National Society for Leadership and Success and the campus chapter of Delta Sigma Theta Sorority, serving as recording secretary and fundraising chair. As part of her Louisiana Educate Program work-study job, Growe tutored fellow students in psychology courses, and provided advice about considerations such as time management and study habits.
She said accepting her diploma will be "bittersweet," because while she's anxious to get on to the next chapter of her life, "I love the program and the people I've met."
Learn more about the program here.
Photo caption: UL Lafayette's Taijah Growe, 21, will earn a bachelor's degree in psychology on Saturday. She will also become the first graduate of the University's Louisiana Educate Program for academically accomplished, lower-income students. She is shown during a recent recognition banquet for LEP students. (Photo credit: Doug Dugas / University of Louisiana at Lafayette)