University earns 'star' status from higher ed sustainability association
Published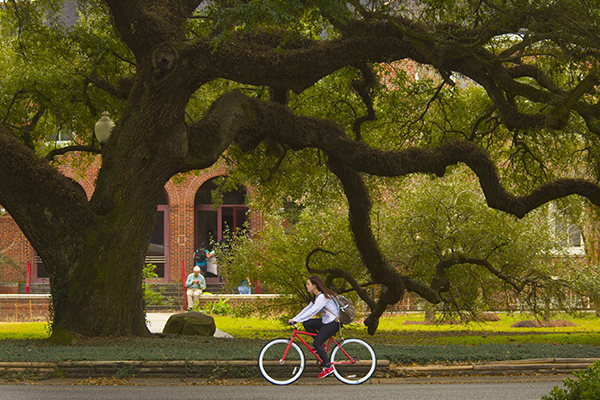 The University of Louisiana at Lafayette's eco-friendly programs and initiatives have been recognized by the Association for the Advancement of Sustainability in Higher Education.
UL Lafayette earned a "silver" designation as part of the association's Sustainability, Tracking, Assessment, and Rating System, or STARS. The system provides a transparent framework for colleges and universities to report and measure sustainability efforts.
Institutions earn AASHE recognition based on sustainability initiatives and programs in areas such as academics and research, infrastructure and operations, campus and community engagement, and innovation and leadership.
"The system is extremely comprehensive, so it provides a good benchmark for tracking progress in reaching goals set forth in our Sustainability Strategic Plan, and a baseline for continual improvement," said Gretchen LaCombe Vanicor, director of the University's Office of Sustainability.
The University's Sustainability Strategic Plan enumerates green goals that seek to reduce the University's greenhouse gas emissions, and overall energy and water consumption. It has steered a range of efforts that helped the University earn recognition from AASHE.
Among them are the University's management of its urban forest and campus conservation practices; development of bicycle and pedestrian friendly solutions; installation of electric vehicle charging stations; position as a community leader in sustainability building practices; and establishment of Zero Waste programs and initiatives.
Interdisciplinary research and academic programs also contributed heavily to AASHE recognition. "University scientists and professors examine sustainability issues – and develop solutions to those issues – in many ways, including by utilizing our campus as a living lab for green infrastructure, renewable energy and zero waste strategies," Vanicor explained.
She cited two "living lab" projects included in the STARS report – the University's Photovoltaic Applied Research and Testing Laboratory and urban prairies on campus.
The PART Lab enables scientists and students from a range of disciplines to research renewable energy, thanks to 4,200 solar panels in the University's Research Park. The solar farm is capable of producing 1.1 megawatts, which powers much of the Louisiana Ragin' Cajuns athletic complex.
Research Park is also the site of one of the University's urban prairies, any of several spots on campus where acres of native flowers and grasses are planted to combat soil erosion, reduce mowing needs, and provide habitat for wildlife.
Another urban prairie recently planted on acreage lining each side of Coulee Mine near University Common will become the site of a planned outdoor classroom. Researchers and students will examine storm water runoff erosion management, soil quality, native grasses and plants, and bees, birds and other pollinators.
Green initiatives are increasingly finding their way into University curriculums as well. The Sustainability Faculty Fellows Program is in place "to create a community of faculty and researchers committed to exploring sustainability, including on campus and beyond," Vanicor said.
As part of the program, faculty members are encouraged to develop sustainability courses or, when applicable, weave elements of sustainability into existing courses.
Of the 594 undergraduate courses offered by the University, 58 are sustainability-focused, according to the STARS report; of 277 graduate courses, 16 are sustainability-focused. Another 256 bachelor's and graduate courses include some element of sustainability.
Learn more about the University's ecofriendly and green initiatives at Office of Sustainability website. Learn more about the Association for the Advancement of Sustainability in Higher Education.
Photo caption: UL Lafayette's eco-friendly programs and initiatives have earned aa silver designation from the Association for the Advancement of Sustainability in Higher Education. The provides a transparent framework for colleges and universities to report and measure sustainability efforts. Photo credit: University of Louisiana at Lafayette