Global electrochemical society taps engineering researcher as Fellow
Published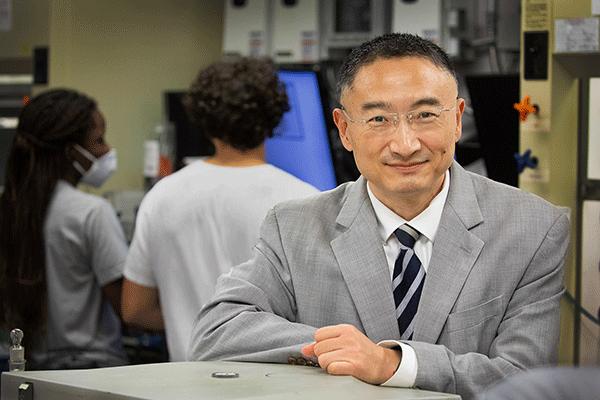 The world's largest professional society for electrochemical science and applications has named a prolific University of Louisiana at Lafayette researcher to its 2021 class of Fellows.
Dr. Xiao-Dong Zhou is among 10 Electrochemical Society Fellows recognized this year. He is the Stuller Endowed Chair in Chemical Engineering and director of UL Lafayette's Institute for Materials Research and Innovation.
The Electrochemical Society was founded in 1902. Its membership includes more than 8,000 scientists and engineers working in 85 countries.
Each year since 1989, the society's members have chosen up to 15 Fellows from their ranks in recognition of "scientific achievements, leadership and active participation in the affairs of ECS," according to a press release.
In an interview, Zhou said he was "honored to be recognized by my peers."
"The research we're doing here has positioned UL Lafayette as a global leader in the field of clean energy innovation. I have received a great deal of support and inspiration from colleagues in the Electrochemical Society as our research program has grown, so to be selected by them as an ECS Fellow is truly humbling."
Zhou's research interests are the synthesis, characterization, and theoretical understanding of materials for fuel cells, batteries, electrolyzers, and gas separation membranes. He is an expert in examining how small molecules, such as oxygen, water, carbon dioxide and methane, can be used to create value-added commodities.
In 2020, for example, Zhou and an interdisciplinary team of researchers at UL Lafayette secured a $1 million grant from the U.S. Department of Energy to turn carbon dioxide into ethylene, one of the world's most widely used chemicals. Earlier this year, he received another $1 million DOE grant to advance clean hydrogen technologies.

Zhou joined UL Lafayette's engineering faculty in 2017. In the years since, he and his collaborators have secured more than $23 million in federal and private industry grants. In addition to the Department of Energy, those funding sources have included the National Science Foundation and NASA.
In September, the Institute for Materials Research and Innovation that Zhou directs at UL Lafayette received a $6 million grant from NSF to lead a carbon capture and utilization initiative.
The project will establish a "Tri-State Institute of Manufacturing" in collaboration with West Virginia University, the National Energy Technology Laboratory, University of New Mexico, and New Mexico State University.
It aims to develop technologies that will capture carbon dioxide while producing electricity, utilize carbon dioxide in storing energy, and convert carbon dioxide into high-value chemicals.
Zhou earned bachelor's and master's degrees in chemical engineering from the East China University of Science and Technology, and a Ph.D. in ceramic engineering from the Missouri University of Science and Technology.
He is also the recipient of the U.S. Department of Defense's DARPA Young Investigator Award. The Electrochemical Society's High-Temperature Energy, Materials and Processes Division, which he chaired, has honored him with its J. Bruce Wagner Young Investigator Award.
Zhou is a technical editor for the peer-reviewed Journal of the Electrochemical Society. He also has served on the ECS board of directors and several committees.
Photo caption: Dr. Xiao-Dong Zhou is the Stuller Endowed Chair in Chemical Engineering and director of UL Lafayette's Institute for Materials Research and Innovation. (Photo credit: Doug Dugas/University of Louisiana at Lafayette)