New UL Lafayette-SLCC partnership paves path for engineering majors
Published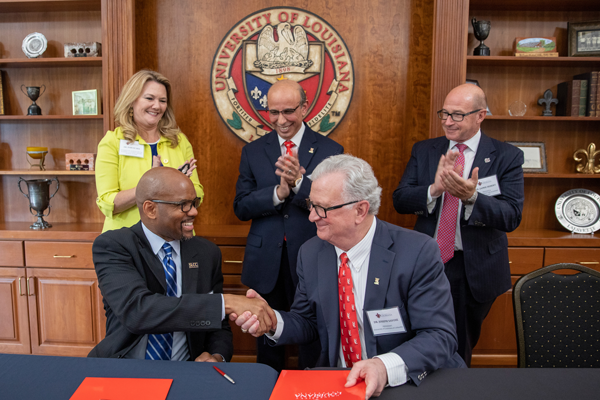 The University of Louisiana at Lafayette and South Louisiana Community College have engineered another path for students to earn degrees from both institutions.
The most recent transfer pathway agreement between the schools was signed on Wednesday, May 26. It enables SLCC graduates to apply course credits earned at the community college toward a bachelor's degree from UL Lafayette's College of Engineering.
As part of the agreement, students earn an associate's degree in general studies with a pre-engineering concentration at SLCC. The 61-63 credit hour curriculum includes general education courses in math, natural and social sciences, English, and history.
It also includes several required engineering courses that will be taught on the UL Lafayette campus by professors from its College of Engineering.
All credits transfer to UL Lafayette, enabling SLCC graduates who enroll at the University to pursue bachelor's degrees in chemical, civil, electrical and computer, mechanical, or petroleum engineering. Undergraduate engineering degrees at UL Lafayette require at least 127 credit hours to complete.
The transfer agreement will take effect for the Fall 2021 semester.
The institutions have a similar agreement in place that enables SLCC graduates to earn bachelor's degrees in business from UL Lafayette's B.I. Moody III College of Business Administration. SLCC graduates are also able to pursue bachelor's degrees in environmental science and informatics from UL Lafayette's Ray P. Authement College of Sciences.
SLCC administrators who attended the signing of the newest partnership between the two institutions on Wednesday included Dr. Vincent G. June, chancellor, and Dr. Darcee Bex, interim vice chancellor of Academic and Student Affairs. Bex is also dean of STEM, Transportation and Energy at SLCC.
Representing UL Lafayette were Dr. Joseph Savoie, president, Dr. Jaimie Hebert, provost and vice president for academic affairs, and Dr. Ahmad Khattab, dean of the College of Engineering.
Khattab said the agreement is designed to help a greater number of students achieve their academic and career goals, and boost workforce development. It's also structured "to ease the transition for SLCC students who ultimately intend to pursue a bachelor's degree in engineering from UL Lafayette."
"Upon enrolling, transferring students will already know some of our professors and their fellow students, and be acclimated to campus. They will also have about four semesters of coursework completed," he explained.
Bex said that "aligning the community college with university partners like UL Lafayette just makes sense."
"This transfer pathway will increase educational attainment in Acadiana and is a commitment to those students seeking a career as an engineer. We've created a pathway to get these students to that career."
For more information, visit www.solacc.edu/admissions. Visit engineering.louisiana.edu for more information on the University's bachelor's and master's degree programs in engineering.
Photo caption: Administrators sign a transfer agreement Wednesday that will enable SLCC grads to apply course credits toward earning a bachelor's degree from UL Lafayette's College of Engineering. Seated, from left, are Dr. Vincent G. June, SLCC chancellor, and Dr. Joseph Savoie, UL Lafayette president. Standing, from left, are Dr. Darcee Bex, SLCC interim vice chancellor of Academic and Student Affairs, Dr. Ahmed Khattab, dean of UL Lafayette's College of Engineering, and Dr. Jaimie Hebert, University provost and vice president for Academic Affairs. (Photo credit: Rachel Rafati /University of Louisiana at Lafayette)