Grad Cooper to focus on public policy at University of Edinburgh
Published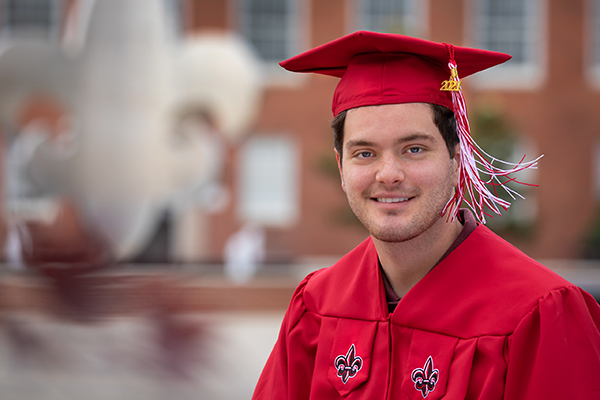 Christopher Cooper will earn a bachelor's degree in economics from the University of Louisiana at Lafayette on Saturday, the second day of Spring 2021 Commencement ceremonies.
His next stop? The University of Edinburgh in Scotland, where he'll pursue a master's degree.
First, Cooper will receive his bachelor's degree from UL Lafayette's B.I. Moody III College of Business Administration at 8 a.m. on Saturday at the Cajundome. Individual ceremonies for UL Lafayette's eight academic colleges and Graduate School will be held on Friday and Saturday at the Cajundome and the Cajundome Convention Center.
Cooper, who is from Slidell, La., will start work on his second degree this fall, when he'll enroll at the prestigious Scottish university to study energy policy and economics.
He'll be about 4,500 miles from his alma mater. Keeping tabs on the bipartisan governmental watchdog Student Public Policy Organization he established this semester at UL Lafayette, however, shouldn't be a problem. Cooper can simply sign up for the student organization's new e-newsletter.
The Student Public Policy Organization is designed to "keep the student body informed about legislation and public policy, and engaged in the democratic process," Cooper explained.
Full-time UL Lafayette students majoring in any discipline are eligible to join. Members track state legislation, and summarize bills, resolutions, amendments and policy issues. The newsletters also contain contact information for "students who want to make their voices heard."
People sign up to receive the newsletters by emailing the organization or on Instagram.
"It's strictly bipartisan. The idea is to inform, and most importantly, provide a means of communication where you can email legislators – or the subcommittee on education, for example – and voice support or opposition for legislation. And ask questions," Cooper said.
Cooper's motivation for setting up the organization during his last semester on campus? An observation he made last summer while working as an intern for the Public Affairs Research Council of Louisiana.
His duties for the nonprofit governmental watchdog organization in Baton Rouge included monitoring legislation. That required sitting in on legislative sessions, where public engagement portions of the process caught his interest.
"There was very little participation. I always noticed the same few people stepping up to speak. And when it came time for emails or letters from the public to be read, there weren't many of those, either. Even for big issues," he said.
When Cooper returned to campus last fall, he began working with UL Lafayette's Office of Student Engagement and Leadership to form the Student Public Policy Organization. That involved drumming up membership, crafting a constitution, submitting by-laws that adhered to University policies and standards, and presenting a proposal for approval.
The Student Public Policy Organization is overseen by an executive council, and has about a dozen members. Cooper was elected its first president.
"This is my way of trying to foster a better understanding of policies and the legislative process, and to help get people more involved, which is important. So, I'm hopeful the organization will grow and evolve," he said.
For his part, Cooper will spend a year at the University of Edinburgh as part of its 12-month "Energy, Society and Sustainability" master's degree program that begins in September. "The program's got a unique title, but courses basically focus on energy policies and economics," he said.
"It covers the energy industry in general, so I'll be learning about many energy processes. But I'm definitely leaning toward a career in renewable energy. It seems to be the trend we're on," Cooper said.
Cooper's interest in energy began early. His father, who is from New York, moved to Louisiana to work as a chef in the oil and gas industry.
"He's been in oil and gas my entire life, so energy's always been important to me. And, my interest in economics policy increased throughout my time at UL," Cooper said.
"So, when I started thinking about graduate school, I just began researching the world's best energy policy programs, and applied to most of them," he added.
Cooper discarded all but two of a stack of acceptances letters. Johns Hopkins University in Baltimore, Maryland, was the other school he considered. The University of Edinburgh won out because "Scotland is at the forefront of new energy. I thought, 'It's not only a great university and great program, but it's in an environment that's on the cutting edge for renewable energy."
Cooper envisions public policy work, but isn't "entirely certain what path I'll take."
"There's government, but there's also business – writing policy at a corporation – or for a nonprofit, or consulting. There are a lot of different options," he said.
Photo caption: Christopher Cooper will begin pursuing a master's degree at the University of Edinburgh in Scotland this fall. First, he'll earn a bachelor's degree in economics from UL Lafayette on Saturday. Photo credit: Doug Dugas / University of Louisiana at Lafayette