Engineering students second in North America PetroBowl contest
Published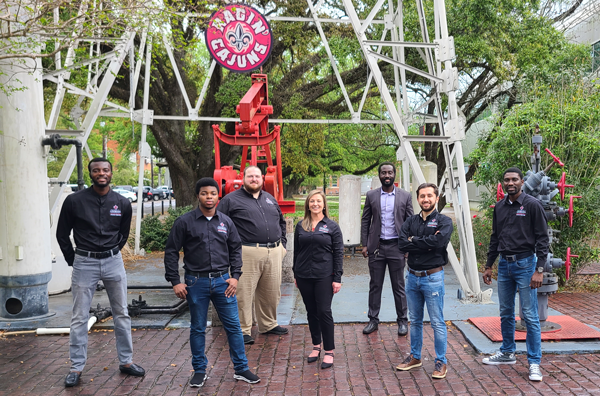 The University of Louisiana at Lafayette PetroBowl Team knows its stuff about the oil and gas industry.
The quiz bowl team also knows a thing or two about data analysis, machine learning, geo-energy politics and other topics related to petroleum engineering.
It finished second in North America during recent PetroBowl competition, and claimed a spot in the international finals of the Society of Petroleum Engineers' contest. As part of the PetroBowl competitions, students who belong to SPE student chapters square off against each other in a series of rapid-fire rounds.
Thirty-two teams earned berths in the finals based on performances in recent qualifier tournaments. The finals are expected to be held in Dubai, United Arab Emirites, sometime this fall. Should pandemic considerations change current plans, the finals will be held virtually.
Either way, teams from Africa, Asia, the Caribbean, Europe, the Middle East, North America and South America will face off to determine which knows the most about the petroleum engineering industry.
UL Lafayette's team earned its chance during the virtual North America tournament won by the University of Texas at Austin. Along the way, it beat former international champions LSU and the University of Oklahoma.
UL Lafayette PetroBowl team members are all petroleum engineering students. They are:
Philip Wortman, a doctoral student and incoming club captain;
Ebuka Osunwoke, a first-year master's student and assistant club captain;
Aderibigbe Adeyemo, a first-year master's student;
Prosper Nekekpemi, a first-year master's student; and
Asiman Saidzade, a second-year master's student.
The five quiz bowlers have taken the University's PetroBowl team into familiar territory.
In 2016, it placed second in the world during the PetroBowl finals in Dubai. That showing followed a fourth-place finish in Houston the year before, and a fifth-place finish in Amsterdam in 2014.
The team's faculty advisor and coach, Dr. Chinedum Ezeakacha, participated in all three events.
Ezeakacha, an instructor in the Department of Petroleum Engineering, coached the team in 2016 and 2015. He was a competitor in 2014, the year he earned a master's degree in petroleum engineering from the University.
Ezeakacha attributes the PetroBowl team's longstanding success to "our talented students who are among the best and brightest anywhere."
Undergraduate and graduate students from any major who belong to Society of Professional Engineers campus chapters can participate in PetroBowl events.
To earn a spot on the quiz bowl team, students must also be members of the University's PetroBowl Club. Club members who prove themselves the most skilled during a series of quiz bowl-style practice sessions ultimately make the PetroBowl team.
"It could be a student from geology, electrical engineering or even music. They can be from any college or major, they just have to prove they have enough knowledge and skill to put them among the top five."
Learn more about the Society of Professional Engineers' PetroBowl Competition.
Shown, from left: Ebuka Osunwoke, Prosper Nekekpemi, Philip Wortman, Amanda G. Lange, outgoing captain and 2020 team member, Dr. Chinedum Ezeakacha, Asiman Saidzade and Aderibigbe Adeyemo. Submitted photo